EMSO Welcomes Joan Molloy as the New Concertmaster for the 2017-2018 Season
Joan Molloy accepted her position as full-time concertmaster for EMSO beginning in the 2017-2018 season.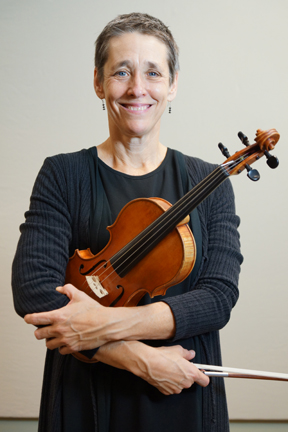 Joan lives in River Falls, Wisconsin. Also located in River Falls is HeartStrings Studio, a Suzuki method studio Joan founded, directs and teaches violin to individuals and group ensembles.
Joan also performs in the Cavatina String Quartet based in Minneapolis, and Ensemble Con Brio which covers the Twin Cities and Western Wisconsin.
Joan was raised in Oberlin, Ohio and was introduced to music and the violin by attending performances at the Oberlin Conservatory of Music. After completing her Bachelor Degree at the University of Minnesota she was drawn to the beauty of Shinichi Suzuki's philosophy of "talent education" and began her ongoing journey as a life-long learner and teacher.
Her major mentors and influences along the way include Young Nam Kim, Alice Joy Lewis, Ronda Cole, Nancy Lokken, Aaron Janse, Edmund Sprunger and David Strom.  These individuals, along with her students, have inspired her and contributed to her as a person, a teacher and a performing musician.
Past orchestral experiences include assistant principal violinist in the Duluth Symphony Orchestra, concertmaster and soloist with the Eau Claire Chamber Orchestra, and concertmaster for the Chippewa Valley Symphony in Eau Claire.