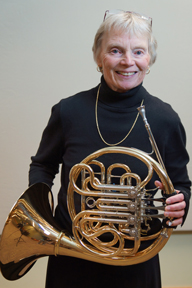 Carol Hendrickson – French Horn
Plays on: Paxman Horn
Joined EMSO: 2010
Currently retired, Carol previously had been an Electronics Sales Rep.
She currently lives in Woodbury, MN.
Carol's hobbies include tennis, pop tennis, and pickleball!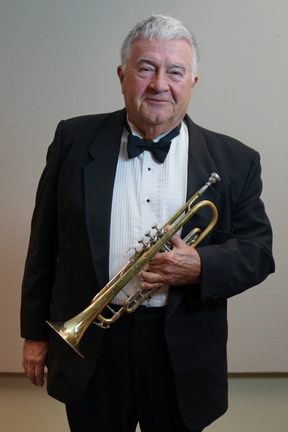 Jim McCarville – Trumpet
Year Joined: 1967
Retired
My wife Karen and I joined the 3M Symphony Orchestra in early 1967 when I joined 3M and we were the trumpet section along with several others until we moved with 3M to Brookings SD in 1975. When we first joined the 3M
Orchestra, it was only one of two amateur Symphony Orchestras in the Twin Cities – now there are over 20. It's great to play in a good orchestra where we can play a variety of classical and pops music over time. We returned to St. Paul and the 3MSO in 1990, and Karen retired from the Orchestra about 2003.
Over the years four of our children have joined the orchestra playing violin (Erin) and trombone (Kevin) and singing in several chorus pieces, and our daughter, Erin, sang a Mozart Solo several years ago with us. An interesting trivial fact – Karen and I purchased the same Mount Vernon Model of our trumpet in 1959 (that was the instrument the symphony players used at the time, and it is now considered a classic.) but we didn't meet until 1964 when Karen came back for graduate school in Mu Ed and I was finishing up my degree. Our five children have moved on to good jobs in business and unfortunately have dropped their musical performing for now.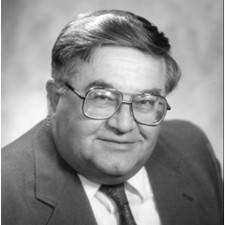 I grew up in Ortonville MN and now live in Lindstrom MN, only a few miles from where my wife grew up in WI. I graduated from the U of MN in Chemical Engineering, and also received an MBA.I played in the Marching Band in two Rose Bowls, and the Concert Band Ensemble when it didn't interfere with my engineering labs. I worked for 3M in new product development, manufacturing engineering, consulting, manufacturing engineering management and in IT on manufacturing information systems until I retired in 2001.
Karen and I have really enjoyed retirement where we can indulge in our musical interests to our heart's content. After retiring in 2001 I got very active in community and volunteer activities for many years (I received the 3M Retiree Volunteer of the Year award in 2009), but several years ago we began cutting back on outside activities, and I now play in EMSO, sub on Trumpet and Fluegelhorn in a German Band, play cornet in the Northwinds English Brass Band, and the U of M Alumni Band, along with several other small ensembles. In the past I've also performed with the South Dakota Symphony Orchestra, the St. Paul Chamber Orchestra, The Encore Wind Ensemble, theater pit orchestras, and various other groups. Karen and I also sing in Barbershop Choruses and Karen arranges folk songs for Barbershop Quartets. We are also trying to travel as much as we can while we are still able, and we enjoy many other activities with family members such as reading, genealogy, and golf.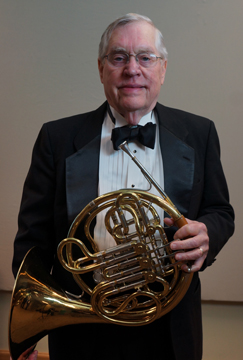 Jim Cheeseman – French Horn
Year Joined: 1963
Retired
James Cheeseman was principal horn in the University of Wisconsin Concert Band for 4-years (even though he was a Chemical Engineering student earning a B.S. degree at the time) and has been playing in the 3M Club Symphony/EMSO since joining the orchestra in 1963. J
im is a retired 33-year 3M employee where he worked in Information Technology in the area of Applied Mathematics. He and his wife Mary Ellen do quite a bit of traveling visiting their daughter and four grandchildren in Barcelona, Spain and their son and granddaughter in Connecticut. Their daughter plays French horn in the Barcelona Symphony, and their son is a Ph.D. theoretical chemist in North Haven Connecticut.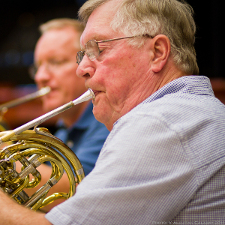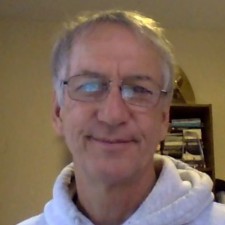 John – French Horn
Year Joined: 2014
Computer Engineer
John is s a computer engineer with Target stores in downtown Minneapolis. He received his Bachelor of Music degree at Manhattan School of Music, and has played the horn since the age of 10. He won a concerto competition at Manhattan with his future wife (Karen, an accomplished oboist), playing Mozart's Symphonia Concertante. John has played with various groups in the Twin Cities, and is the first hornist for Exultate, a Lutheran chamber orchestra and chorus. The horn teachers most influential to John were Clarence Mayer of the Philadelphia Orchestra, and Martin Smith of the St. Paul Chamber Orchestra and New York Philharmonic. John can occasionally be heard playing for services at Westminster Presbyterian Church in downtown Minneapolis.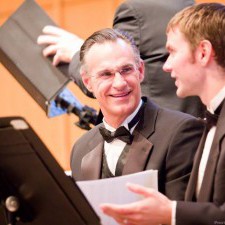 Tom – Trumpet
Information Technology
Tom has been playing trumpet and flugelhorn in various musical groups ever since he started playing in the 5th grade. While earning his B.S. degree in computer science, he played in the St. Cloud State University wind Ensemble and Concert Band. Currently, Tom is a member of the Bavarian Muskmeisters as well as two church choir ensembles. In the late 2009, he was sub for an EMSO concert and enjoyed it so much that he has been a member ever since. For his "day" job, tom has been working at 3M in the field of information technology for the past 25 years where, he has held various positions, He is happily married and has two beautiful children.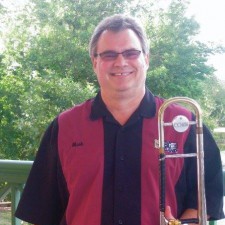 Mark – Trombone
Year Joined: 2005
Engineer
Mark has been a member of the 3M Symphony Orchestra/EMSO since 2005 after subbing a couple of times and getting hooked. In his real life, he's an Engineering Specialist and has been with 3M for over 31 years. Although his career is technical, music has always played a major part of his life. At Gustavus Adolphus College in St. Peter, MN, Mark received a Bachelor's of Arts in Physics with minors in Music and Mathematics. While at Gustavus, he played in the Concert Band, Jazz Band, Orchestra, Brass Choir, Trombone Choir, Chapel Brass, and Hoffalo Lake Brass Trio. He went on to receive an MSEE from the University of Minnesota and played in one of the jazz bands there.