Carl Meincke
Joined EMSO in 2016
Instrument: Edwards bass trombone
He is a retired music educator
He grew up in Green Bay, WI and currently resides in Hudson, WI
Marsha Pearson  is currently subbing for EMSO as a trombonist.  She plays a Conn 88H instrument She is a retired music educator She grew up in River Falls, WI and continues to reside there.
Kyle Bryson
Joined EMSO in the winter of 2017.
He plays a Zildjian cymbals along with many other percussion instruments
He currently works in Product development at 3M
He grew up in Pennsylvania, and now resides in St. Paul, MN
His favorite hobby is jazz music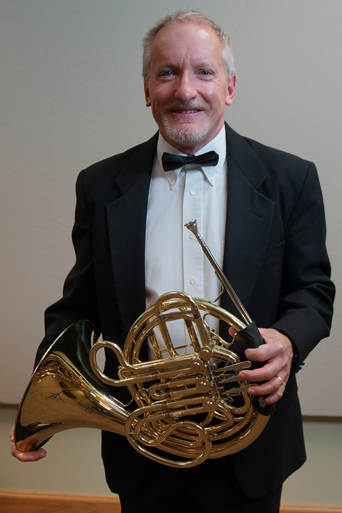 Dwight Erickson – Horn
French Horn – Double King Horn
Joined EMSO: 1979
EMSO Treasurer
I grew up in Jordan, MN and played French horn and mellophone in marching and concert band there as well as concert band at Hamline University. After obtaining a BA degree in chemistry at Hamline and graduate degree in Materials Science and Engineering at the University of Minnesota, I joined 3M as a materials scientist working in ceramic research. Wanting to maintain my musical interest, I was encouraged to attend a rehearsal of the 3M Orchestra, which eventually became the East Metro Symphony Orchestra, having never played in an orchestra (and with string instruments!) before. The rest is history. In addition to my activities with the orchestra, I serve on the Board of Directors of the Evergreen Community Association as well as volunteer in various student educational activities at Hamline University. I am a biking enthusiast, cross-country skier and enjoy summer yard work. I live with my wife and daughter(another aspiring French horn and mellophone player) in Woodbury.
John – French Horn
Year joined EMSO: 2014
John grew up in Pennsylvania. Currently, he lives in Lindstrom, a beautiful city north of Stillwater. John's hobbies include a strong appreciation for music, listening to it, and playing it (obviously).
John is employed as a lead software engineer. He received his Bachelor of Music degree at Manhattan School of Music, and has played the horn since the age of 10. He won a concerto competition at Manhattan with his future wife (Karen, an accomplished oboist), playing Mozart's Symphonia Concertante. John has played with various groups in the Twin Cities, and is the first hornist for Exultate, a Lutheran chamber orchestra and chorus. The horn teachers most influential to John were Clarence Mayer of the Philadelphia Orchestra, and Martin Smith of the St. Paul Chamber Orchestra and New York Philharmonic. John can occasionally be heard playing for services at Westminster Presbyterian Church.
He enjoys music, geneology, and farming.  Currently he plays a Paxman descant and GeyerWrap French horn.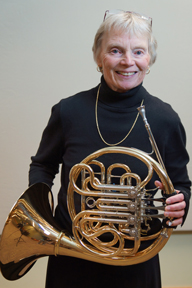 Carol Hendrickson – French Horn
Plays on: Paxman Horn
Joined EMSO: 2011
Currently retired, Carol previously had been an Electronics Sales Rep.
She currently lives in Woodbury, MN. but grew up in Cloquet MN
Carol's hobbies include tennis, pop tennis, golf, hiking and pickleball!