Mary Jane Latu
joined Emso during the fall of 2018
Instrument: violin
She currently works at a non-profit as a family and children's advocate
She grew up in Brooklyn Park, MN, and is now living in the uptown area of Minneapolis.
She loves spending time with family, reading, volunteering, and hiking.
Joined EMSO in 2017, serving first as a temporary concert master, and then obtaining the position beginning in the 2017-18 concert year.
Joan plays a 2007 Stephano Gibartoni Violin.
She works as a violinist and violin teacher
She grew up in Oberlin and St Cloud, but now lives in River Falls, WI
She loves to garden, spend time with her dog, and spend time in the woods
Check her full bio for more info.
Karl Ruesterholz – Violin
Joined EMSO: 2017
Instrument: Steiniger Violin
Karl grew up in Hillsboro, Oregon, and now lives in Stillwater, MN. When Karl is not working for Delta as an airport ramp agent, he spends his time fishing, hiking, flying planes, and of course, playing music.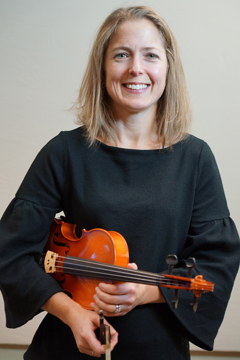 Betsy VanScoy
Joined EMSO: 2017
Instrument: Karl Knilling Violin
Betsy Vanscoy, born and raised in Minnesota, grew up in St. Cloud, and currently lives in Eagan. Betsy is a social worker at a skilled nursing facility. When she's not working or practicing, her hobbies include spending time with family, reading, and traveling.