Joyce Laidlaw 
She joined the 3M orchestra in 1973 and continued with EMSO
Principal clarinetist with EMSO.  Her instrument is a Buffet R-13 clarinet
She is a retired hospital laboratory scientist
She grew up in Fergus Falls, MN and now lives in St Paul, MN
Her favorite hobby is genealogy, volunteering, and music.  She is a retired member of the 451st army band with 34 years of service.  She is also in the Bethel Philharmonic Orchestra, and is the handbell director at her church.  She is also involved in singing in the choir and assists with the worship team.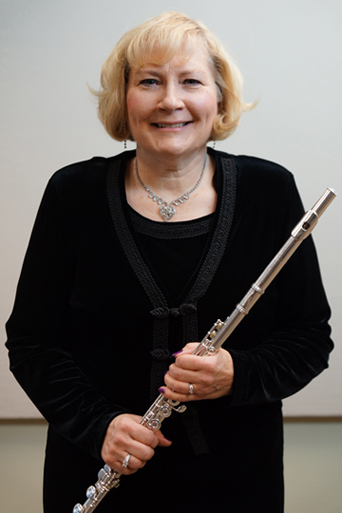 Brenda Renalls – Flute
Year joined EMSO: 2007
Brenda's musical career started with piano and baton lessons (YMCA Marching Band) in grade school. She switched to the flute when the band director (also a female flautist) told her that she had the right mouth structure for flute playing and offered to give her private lessons.
By junior high she was playing both flute and piccolo. Her first solo was "Stars & Stripes Forever". As a junior high student, she auditioned for a Moorhead State College program and was the only student accepted who was not enrolled at MSC (now Moorhead State University). The program was weekly private lessons from Emil Opava (Principle Flutist with the Minnesota Symphony, now known as the MN Orchestra).
During high school Brenda played in orchestra, concert band, and marching band. Her senior year she soloed on "Carnival of Venice" accompanied by the concert band.
Brenda attended the University of North Dakota (majoring in Chemical Engineering) and played with one other flute player in the UND Chamber Orchestra throughout her college career. During college she also played her flute in area churches and took ballroom dance classes.
Upon graduation from UND (B.S. in Chemical Engineering) Brenda joined 3M in the Film & Allied Products Division (Product Development Engineer) in 1980. She began playing with the Hamline University Band and soon after with the 3M Orchestra. After marriage to Carl and the birth of her daughter, Natalie, Brenda took 21 years off from the 3M Orchestra while working and traveling internationally for 3M. She returned when invited to play in 2007 for the 3M Orchestra 50th Anniversary Concert and has been with the 3M Orchestra/EMSO ever since.  Brenda's husband, Carl, gave her a piccolo for her birthday so she has been playing both flute and piccolo with the EMSO in recent years.
After retirement from 3M (36 years later) as a Global Laboratory Manager in the Renewable Energy Division, Brenda was asked to join the EMSO Board of Directors. She is currently serving on the board and happily playing her Gemeinhardt 3SS Flute and Gemeinhardt 4RSP Piccolo with EMSO.
Joined EMSO: 2005
Plays: Haynes flute
Retired occupational therapist

Megan is principal flutist with EMSO, and has been a member of the orchestra for over twelve years. She enjoys all kinds of music, but her current favorite is music played by Jasmine Choi. Active in the orchestra, a woodwind quintet and occasional duos, music is an important part of her life. Before retirement, Megan worked in a school district with children with special needs as an occupational therapist.
Her work helps keeps her young at heart!
Leanne Ekstadt- Oboe
Leanne was raised in Pipestone, Minnesota, and started playing oboe after switching from clarinet in the eighth grade. She earned a B.A. in music education from Gustavus Adolphus College in St. Peter, Minnesota, where she studied oboe with Thomas Tempel and Marilyn Ford, while playing in Concert Band and Orchestra. Upon graduating in 1979, Leanne was asked to join EMSO (formally the 3M Club Symphony Orchestra) and has been a member ever since. She is a member of Key Notes Trio, performing at weddings, private parties and corporate functions, and is a member of Quintessentials Woodwind Quintet.
Leanne's career is in business and she holds an M.B.A. from the University of St. Thomas in St. Paul, Minnesota. She has held positions at Fingerhut Corp., Deluxe Corp., Ceridian and is currently employed as a Pricing Manager at Optum.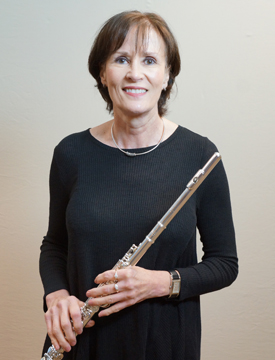 Patty Cook
In 2015 she became a full time EMSO member
Instrument: A Pearl Elegante Flute
Retired
Patty began playing the flute in 5th grade, because her mom suggested the flute sounds "like a bird." Despite the fact it took a month to master the mouthpiece alone, she has never been sorry for her mother's early guidance, as she simply loves it. She enjoyed 8 years of private lessons, but then had to limit her musical endeavors in order to attend the medical school at the University of Minnesota and then for her career practicing emergency medicine.
Fortunately semi-retirement 10 years ago gave her more time to devote to music, first joining the South of the River Band in Eagan. But always desiring to play with an orchestra, she began substituting for EMSO in 2000, playing the flute and piccolo. In 2015 she became a full time EMSO member and loves the challenging music and the opportunity to play with this great organization of talented musicians.
In her free time, Patty enjoys kayaking, cross country skiing, woodcarving and cooking.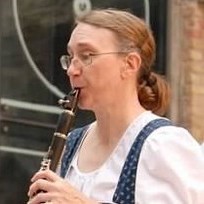 Kim 
Joined EMSO: 2006
Instrument: Bass clarinet
Information Technology
Kim started playing clarinet in 5th grade and continued through college, briefly studying with former Minnesota Orchestra Principal Clarinetist Cloyd Williams. After taking a long break from music to concentrate on family and work, she joined the Minnesota State Band. She then joined the 3M Symphony Orchestra (now EMSO) as a substitute player, and kept returning to rehearsals and performances until she was allowed to join full-time. In addition to the Minnesota State Band and EMSO, she performs with the Bavarian Musikmeisters. She currently works at 3M. Kim is happily married and has 3 wonderful children.