The East Metro Symphony Orchestra presents
A Season of Stories
Chapter Five: Traditions – A Celebration of Finnish Music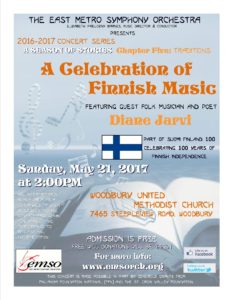 Sunday, May 21st, 2017 – 2:00PM
Woodbury United Methodist Church
7465 Steepleview Road
Woodbury, MN
Free Admission
Free will offerings in support of the orchestra's work in the community are always appreciated.
Presented with the generous support of the
Finlandia Foundation National
, as well as funding from the
St. Croix Foundation
and the
Wisconsin Arts Board
with funds from the State of Wisconsin,
A Celebration of Finnish Music
commemorates the one hundredth anniversary of Finland's independence.  Part of the international
Suomi Finland 100
celebration, the concert will combine performances of both the folk and classical music of Finland.  Singer, songwriter, poet and kantele player (Finnish folk harp)
Diane Jarvi
will join the orchestra for collaborative presentations of Finnish folk music and storytelling.  Known in Finland as Minnesotan Satakieli – or Minnesota Nightingale – Jarvi is a versatile performer has performed throughout the United States and all across Finland and other parts of Europe.  She studied kantele and Finnish folk music at the Sibelius Academy in Helsinki, Finland.  Author of multiple music CDs and poety books, Jarvi has been the recipient of a McKnight MacPhail performing fellowship and awarded Finlandia Foundation Performer of the Year among other awards and artistic grants.  The concert will also include performances of various works by Finnish composer Jean Sibelius and portions of the multi-movement work
Kalevala Suite
by Uuno Klami.
A meet-and-greet with orchestra members and refreshments will immediately follow the performance.
ASL interpretation will be available from VSA Minnesota when requested. Please contact EMSO within ten days of the performance to request ASL interpretation.