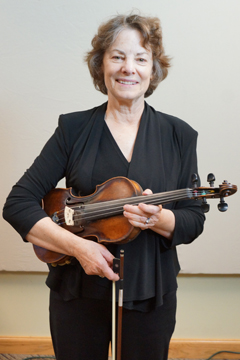 Betsy Lake joined EMSO in 2012.
Betsy started violin lessons in the 4th grade and continued through college as a member of the UMass Symphony. The 1960's Boston folk scene lured her away and she traded her violin for a guitar. After more than forty years and a long career teaching elementary school she has returned to her classical roots.
Now retired, Betsy does volunteer work for Habitat for Humanity, the Minnesota Land Trust, and Belwin Conservancy. You will often find her outside hiking, birding or on a horse.