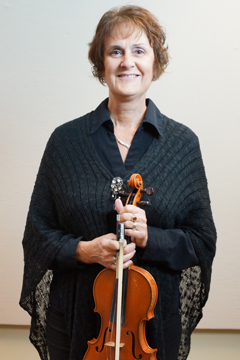 Deb first played violin with the 3M Symphony Orchestra during high school in the mid-1970s. Her father was a retired 3M employee. She grew up in North St. Paul, and is currently residing in Savage.
After about a 25 year hiatus that included college (Concordia, Moorhead – BA Elementary Education), teaching, marriage, three kids, and now 25 years as a Senior Human Resources Representative at Waterous Company, she dusted off her instrument about 15 years ago and rejoined EMSO as a violinist. Deb was able to utilize her HR skill set in coordinating the search for a new Music Director/Conductor with the successful appointment of Craig Hara in 2019.
Deb also serves as EMSO's librarian.