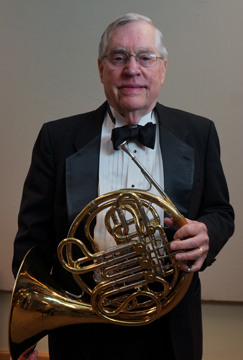 Jim Cheeseman joined EMSO in 1963.
Jim was principal horn in the University of Wisconsin Concert Band for four years (even though he was a Chemical Engineering student earning a B.S. degree at the time) and has been playing in the 3M Club Symphony (now known as EMSO) since joining the orchestra in 1963.
Jim is a retired 33-year 3M employee, where he worked in Information Technology in the area of Applied Mathematics. He and his wife Mary Ellen do quite a bit of traveling, visiting their daughter and four grandchildren in Barcelona, Spain, and their son and granddaughter in Connecticut. Their daughter plays French horn in the Barcelona Symphony, and their son is a Ph.D. theoretical chemist in North Haven, Connecticut.