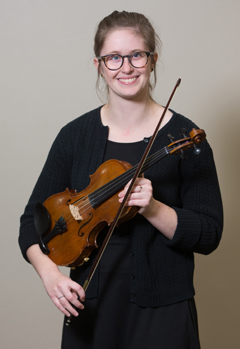 Kelly Fischer started playing with EMSO after hearing about the orchestra from a coworker in the winter of 2018.
Kelly grew up in Roseville, MN and started playing violin in third grade. She continued to play all through high school and college. Shortly after graduating from the U of M Morris, she landed a job as an Environmental Specialist at the Minnesota Pollution Control Agency.
Outside of EMSO, Kelly loves camping with friends and family, gardening, and needle felting.
She says "I absolutely love the friendly energy at EMSO rehearsals and I'm a huge proponent of providing free music listening opportunities for community members."