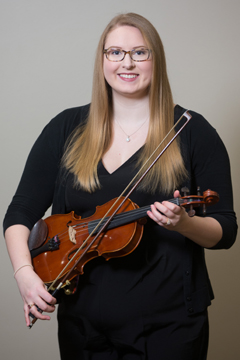 Sarah Strand joined EMSO in 2019.
Sarah is a clinical research and quality assurance coordinator at Comprehensive Research Group in Minneapolis. She is from Blaine, MN and graduated from Concordia College Moorhead in 2018.
Sarah lives with my fiancé Jake Hanson (a fellow EMSO violinist) and their rescue dog Hallie in Northeast Minneapolis. Her hobbies include painting, traveling, and, at the moment, wedding planning.