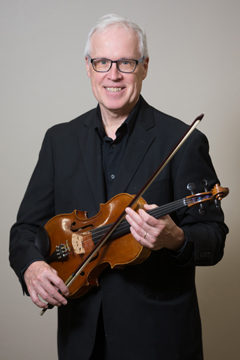 Steve Crooks joined EMSO in 2016. He plays a copy of a Gabbrielli Viola, and currently uses a hybrid bow (carbon fiber on the inside, pernambuco on the outside).
Steve grew up in Rochester and currently resides in Mahtomedi. Steve works as a Intellectual Property Technical Professional with 3M, and before that he was a research chemist in pharmaceuticals.
When Steve is not working, he plays various musical instruments, including bass guitar, electric guitar, acoustic guitar, drums (from rock band background). He also likes public speaking, painting (acrylics), reading, and studying languages. He is also currently learning some 3D modeling software (Blender) for computer graphics.
Steve currently serves as President of EMSO.