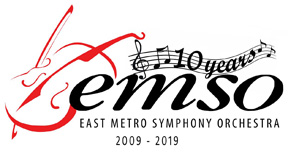 EMSO's upcoming 2018-2019 season marks a celebratory year for us, it's our 10th anniversary as a full non-profit organization. We hope you join us this season as we celebrate See our upcoming season schedule here.
Join our newsletter to stay up to date with EMSO.
Next Concerts:
May 7, 2019 at Boutwells Landing, Oak Park Heights, MN
May 19, 2019 at Trinity Lutheran, Stillwater, MN
More info soon!