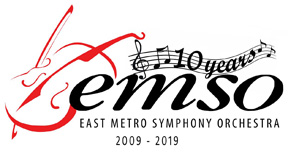 EMSO's  2018-2019 season marked a celebratory year for us, it was our 10th anniversary as a full non-profit organization. We were glad you could join us at a concert or two this season as we celebrated. 
Join our newsletter to stay up to date with EMSO.
Next Season:
Look for info about the 2019-20 season in August!
About East Metro Symphony Orchestra (EMSO) The East Metro Symphony Orchestra is completed its tenth season of providing innovative and inspiring programming to the East Metro community. EMSO concerts are always informal, educational, fun, and perfect for all ages and musical backgrounds. To learn more, visit us on Facebook, Twitter, or at www.emsorch.org.