East Metro Symphony Orchestra's 2022-2023 Concert Season
EMSO is excited to annouce its 2022-2023 Concert Season! The orchestra returns to a full concert schedule this season – featuring two concerts in the fall and two in the spring.
Hopeful Endeavors
The 2022-2023 Concert Season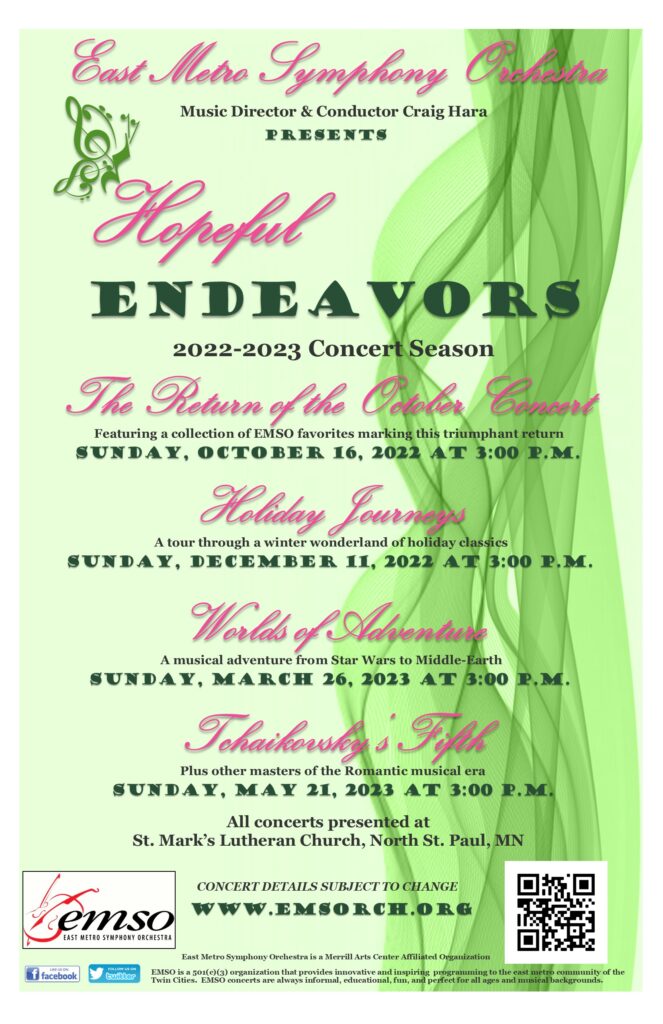 The Return of the October Concert
Sunday, October 16, 2022 at 3:00 PM
It's finally back! After two years of rough starts (or no start at all!) EMSO will present a fall concert of orchestra favorites
Holiday Journeys
Sunday, December 11, 2022 at 2:00 PM*
Welcome to a musical wonderland of holiday songs including some old standards and some new classics
Worlds of Adventure
Sunday, March 26, 2023 at 3:00 PM
Journey to space and explore our world with this collection of music that captivates the imagination
Tchaikovsky's Fifth
Sunday, May 21, 2023 at 3:00 PM
Tchaikovsky's Symphony #5 plus more from the masters of the Romantic musical era
All concerts will be presented at
St. Mark's Lutheran Church 2499
Helen St N North, North St Paul, MN 55109
EMSO will not be offering reserve tickets for our concerts this season. All concerts continue to be free and admission is at the door.
*Please note the change in time for the Holiday Journeys concert. The concert will now be presented at 2:00 PM instead of 3:00 PM.