East Metro Symphony Orchestra has suspended its 2020-2021 concert season due to the COVID-19 pandemic
After a long and strange year like 2020 and the loss of an entire concert season, it's hard to believe that a new and viable season is anywhere on the horizon. But East Metro Symphony Orchestra's Board is starting work on the 2021-2022 Concert Season! With hopes for the success of the continued efforts to distribute vaccines to communities, EMSO anticipates the orchestra will be able to enter fall 2021 with bright plans for a fabulous year!
EMSO is working on what the next concert season will be, with hopes that it will feel familiar and welcoming but also knowing that some aspects of the season may need to be a little different. We plan on again having four main concerts, with three of these concerts having associated Symphonies for Seniors performances at senior residences.
For more information on the planning of the 2021-2022 Concert Season, visit our concerts page.

All concerts programming is currently tentative. EMSO hopes to confirm plans for the season by July 2021.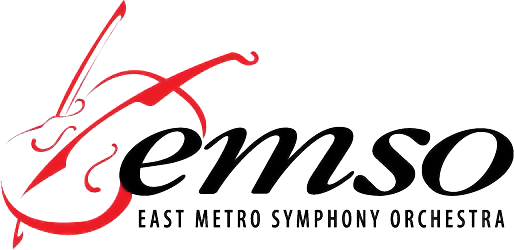 EMSO is looking for new musicians for our 2021-2022 Concert Season
In preparation for the 2021-2022 concert season, EMSO is seeking new musicians for the following positions:
If you are interested in joining us in the fall, please visit our join page, or contact our Personnel Manager at personnel@emsorch.org, for more information.
Since 2009, East Metro Symphony Orchestra (EMSO) has been devoted providing innovative and inspiring programming to the East Metro community. EMSO concerts are always informal, educational, fun, and perfect for all ages and musical backgrounds. To learn more, visit us on Facebook, Twitter, or at www.emsorch.org.
Join our newsletter to stay up to date with EMSO.