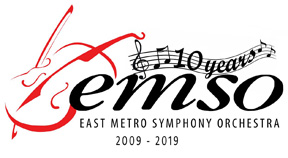 EMSO is pleased to announce Craig Hara as its new music director and conductor. Click here to learn more
About East Metro Symphony Orchestra (EMSO) The East Metro Symphony Orchestra will be celebrating its eleventh season of providing innovative and inspiring programming to the East Metro community. EMSO concerts are always informal, educational, fun, and perfect for all ages and musical backgrounds. To learn more, visit us on Facebook, Twitter, or at www.emsorch.org.
Join our newsletter to stay up to date with EMSO.
Due to the ongoing concerns about the spread of COVID-19. EMSO has decided to cancel the concert on March 22nd.