Da Capo: Beginning Again
East Metro Symphony Orchestra is pleased to announce its 13th concert season – Da Capo: Beginning Again! After a long break because of the Covid-19 pandemic, EMSO is excited to offer four new concerts honoring where we've been and celebrating where we're going starting this fall! Please visit our concerts page for more info on our upcoming season!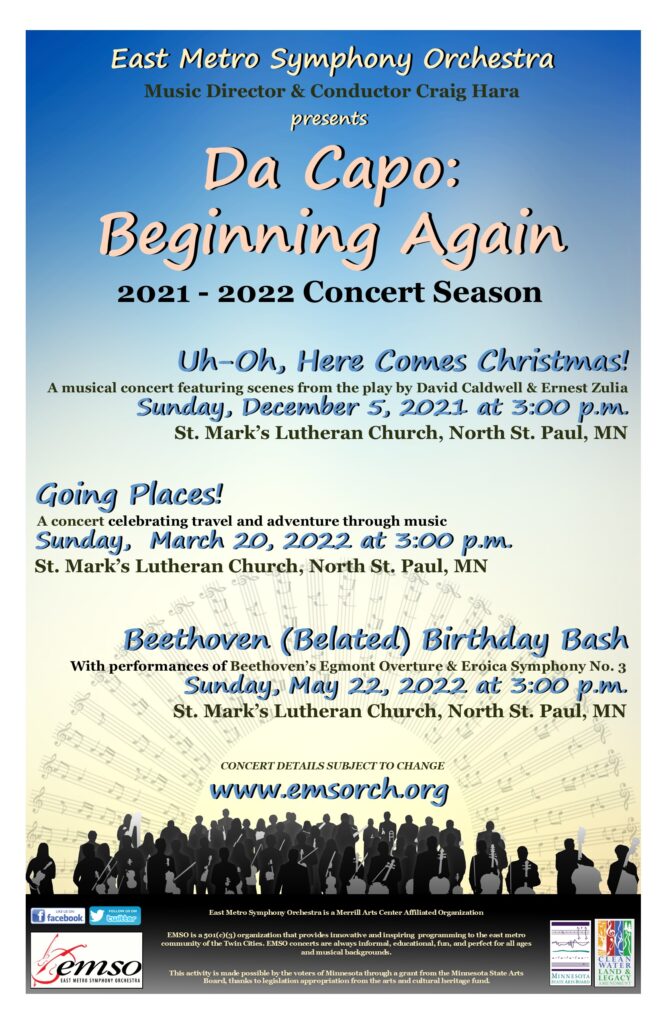 All concert details are subject to change.
---
EMSO Covid Guidelines
Members must be vaccinated to participate in EMSO activities.
Members that have not received a vaccine and do not intend to do so, will be asked to suspend participation in the Orchestra until further notice.
Face coverings are strongly recommended for all musicians whenever practical.
Members must not participate in Orchestra activities if they have symptoms of sickness:

A member with a

negative Covid-19 test

can return to Orchestra activities when their symptoms have resolved. A fever must be gone 24 hours without using medication.
A member who has

tested positive for Covid-19

must wait at least 10 days since they first felt sick or tested positive.
Members who have been

exposed to COVID-positive person(s)

will not need to quarantine from Orchestra activities due to our vaccination requirements.
PLEASE

inform the orchestra if you have tested positive for Covid-19 and feel that other orchestra members may have been exposed.
The EMSO guidelines are based on the requirements set by our rehearsal/performance venues. The Orchestra Covid committee will communicate changes when required.
SoWashCo District Health and Safety Plans are based on guidance from the Washington County Public Health Department. Documents can be found at: https://www.sowashco.org/about-us/fall2021
---
Since 2009, East Metro Symphony Orchestra (EMSO) has been devoted to providing innovative and inspiring programming to the East Metro community. EMSO concerts are always informal, educational, fun, and perfect for all ages and musical backgrounds. To learn more, visit us on Facebook, Twitter, or at www.emsorch.org.
Join our newsletter to stay up-to–date with EMSO.