Hopeful Endeavors
The 2022-2023 Concert Season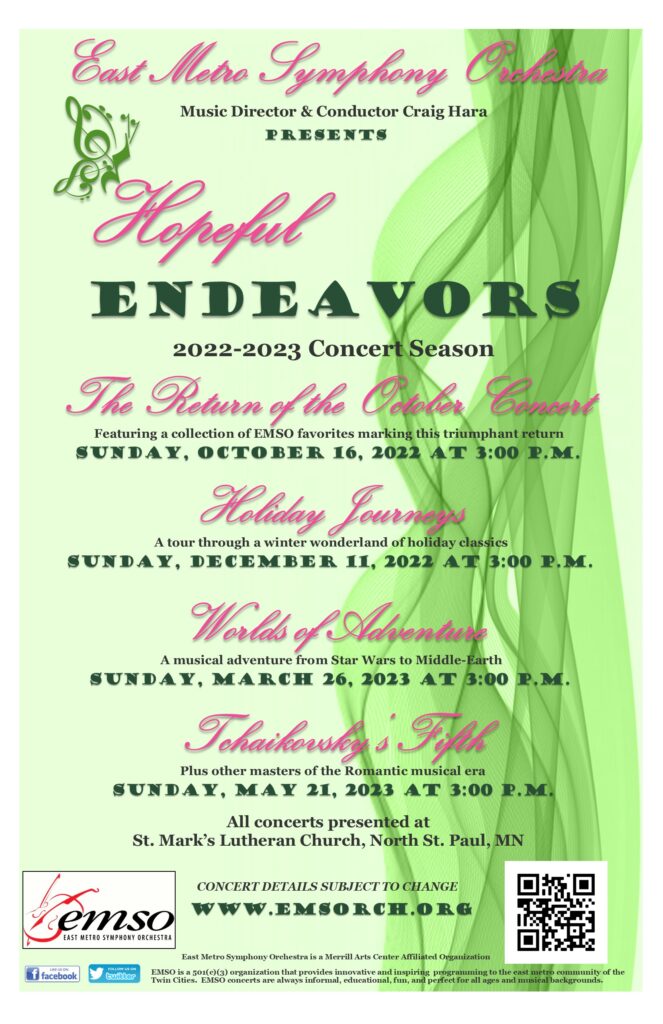 Welcom to East Metro Symphony Orchestra's 14th concert season! A full season is planned for 2022-2023. For more info, visit the concerts page.
Click here for more info on EMSO's first concert of the season, The Return of the October Concert.
---
East Metro Symphony Orchestra is looking for new musicians to join our orchestra for the 2022-2023 concert season! If you are interested in joining for one or more of our concerts, please contact our personnel manager at personnel@emsorch.org. We welcome all inquiries about new membership, regardless of the instrument.
EMSO is currently seeking musicians playing these insturments:
---
Since 2009, East Metro Symphony Orchestra (EMSO) has been devoted to providing innovative and inspiring programming to the East Metro community. EMSO concerts are always informal, educational, fun, and perfect for all ages and musical backgrounds. To learn more, visit us on Facebook, Twitter, or at www.emsorch.org.
Join our newsletter to stay up-to–date with EMSO.