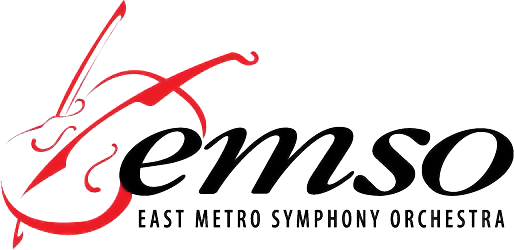 On May 26, 2020, the East Metro Symphony Orchestra Board met to discuss options regarding the 2020-2021 concert season.  With the health and safety of our members and audiences, and their families, in mind the Board decided to suspend rehearsals and performances for the orchestra through the end of 2020.
*UPDATE* On November 9, 2020, EMSO's Board met again and chose to suspend the remainder of the 2020-2021 concert season and all EMSO sponsored in-person performances and recording sessions through June of 2021. We look forward to seeing everyone again for the 2021-2022 concert season starting September 2021!
Thank you for your continued support of our musical family.  We look forward to making music together again as soon as it is safe.
East Metro Symphony Orchestra (EMSO) begins its 12th season of providing innovative and inspiring programming to the East Metro community. EMSO concerts are always informal, educational, fun, and perfect for all ages and musical backgrounds. To learn more, visit us on Facebook, Twitter, or at www.emsorch.org.
Join our newsletter to stay up to date with EMSO.