East Metro Symphony Orchestra performances are always relaxed, informal, and appropriate for all ages and musical backgrounds.
Most EMSO concerts are free to attend. All are welcome!
For information on upcoming EMSO concerts, visit our concerts page.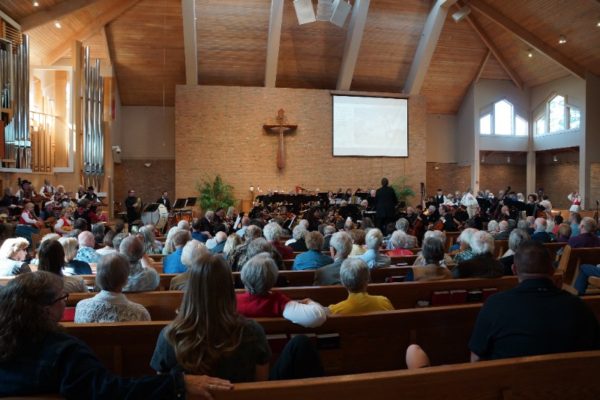 ---
Orchestra Audience Frequently Asked Questions
How long is the concert?
Most EMSO concerts are one to two hours in length. Longer concerts include a 10-20 minute intermission.
When should I arrive?
It is recommended that you arrive at least 30 minutes before the concert begins in order to give yourself time for parking, purchasing tickets, and finding your seat. Our venues change from performance to performance, so the time needed can vary. Most of our venues offer free parking, are handicap accessible, and do not require assigned seating.
What should I wear?
Come as you are! EMSO's concerts are informal and designed to be welcoming to all people. Casual dressy clothing is common, but there is no dress code. Wear what makes you comfortable.
Can I get up and move around during the concert?
Sure! EMSO concerts are often interactive and clapping, toe tapping and even dancing are often encouraged. We welcome our audience to enjoy and experience the music in their own way. We just ask that you be respectful of the orchestra and your fellow audience members.
If you know you will have to get up during the performance please sit where you can do so without interfering with another audience member's experience.
Do I need to know about the music the orchestra is playing to enjoy a concert?
Nope! A concert is a great way to learn about new music, regardless of your previous experience with a musical piece or genre. Our conductor often shares background information on the music during the concert and we offer extensive information in the concert programs.
When do I applaud?
Applauding at the entrance of the conductor and concertmaster is common. Applauding between individual pieces is appreciated, but please refrain from applauding between the movements of a single piece. Applauding individual or solo performers within a piece is also acceptable.
Can I take pictures and video or use my cell phone during the concert?
We love it when our audience shares their concert experience on social media! The orchestra allows the taking of photographs during performances. Please do not use the flash for photographs.
Video is not allow at concerts without the expressed permission of the orchestra.
We ask that you follow standard cell phone etiquette and turn off your phone's ring tone and refrain from making calls, checking messages, or using the internet during the concert out of respect for your fellow audience members.
What happens after the concert?
EMSO concerts are typically followed by a post-concert reception featuring treats like cookies and lemonade. These receptions are a wonderful chance to talk with individual EMSO musicians, our conductor and concertmaster, guest musicians, and the EMSO board. All audience members are welcome to attend these post-concert receptions.