East Metro Symphony Orchestra foundation rests on its 50+ year history as the 3M Symphony Orchestra. In 2008, when 3M ended support of its employee music clubs, orchestra members voted to continue as an independent organization, and renamed themselves the East Metro Symphony Orchestra (EMSO). Within its first two years, EMSO became a non-profit 501(c)(3) organization, allowing the orchestra to secure initial funding from the Metropolitan Regional Arts Council (MRAC), as well as ongoing donations from its members.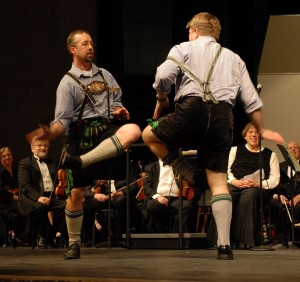 Early on, EMSO partnered with Woodbury's Merrill Community Arts Center, now known as Merrill Arts Center (MAC), and the newly constructed East Ridge High School in Woodbury. Through MAC, EMSO secured rehearsal space at East Ridge and access to its Loft Stage for concerts. Today, EMSO remains an active affiliated organization of MAC, using its facilities for music and instrument storage, meeting rooms, and backup rehearsal space.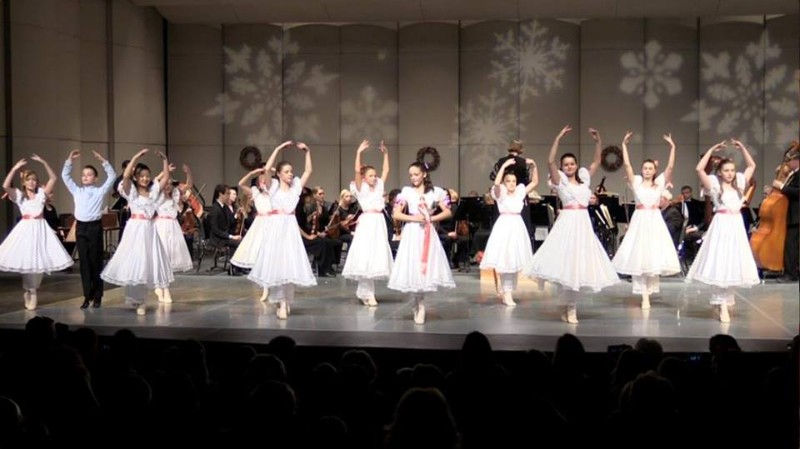 EMSO has built artistic partnerships with numerous arts organizations in and around Twin Cities metro area. Our Origins concerts feature classic and folk music of other cultures. EMSO and its artistic partners have presented performances featuring the folk music and dance of Norway, Germany, Indonesia, Paraguay, Bulgaria, Ireland, Russia, Finland, and Sweden. We have also partnered with the Woodbury Dance Center and School of St. Paul Ballet to present selections from Tchaikovsky's The Nutcracker; Twin Cities Show Chorus for a barber shop music-themed program; Bend in the River Big Band; Applause Community Theatre for a holiday concert featuring scenes from Robert Fulghum's Uh-Oh, Here Comes Christmas; and numerous church choirs in choral concerts, including the monumental Brahms Requiem.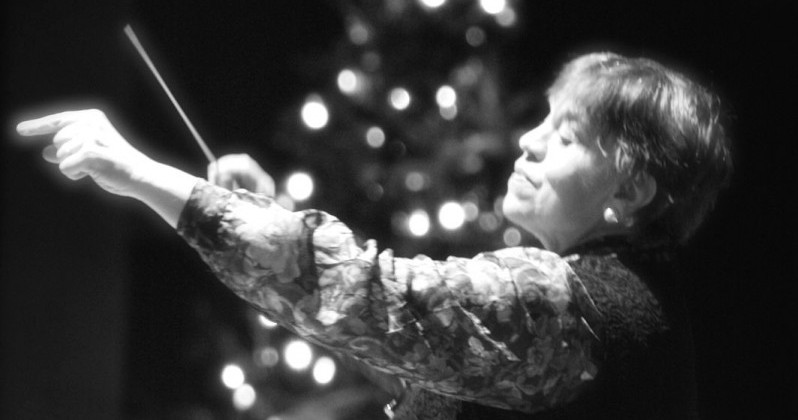 Under the artistic leadership of music director and conductor (2009-2019), Dr. Elizabeth Prielozny Barnes, EMSO continued to expand its artistic reach in the east metro. EMSO's annual Side-By-Side concerts offered high school orchestra students the opportunity to perform along side the more seasoned EMSO musicians, creating a one-of-a-kind musical experience for students and EMSO members alike. EMSO also began performing several concerts at senior living facilities (now known as Symphonies for Seniors), allowing the orchestra to bring the music out into an underserved part of the community.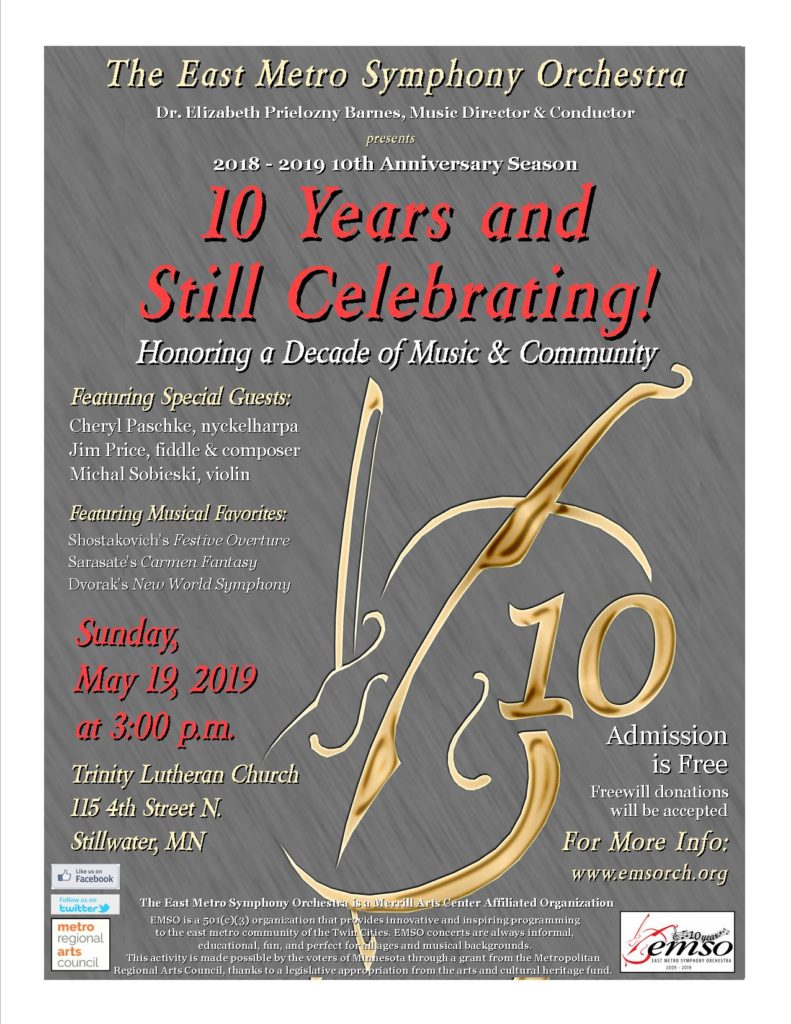 East Metro Symphony Orchestra celebrated its tenth year as an independent, non-profit community orchestra in 2019 with a concert honoring the people and music that have made EMSO a success. The concert also marked the end of Dr. Barnes' 20 years as music director and conductor of EMSO (and the former 3M Symphony Orchestra). The following season, EMSO brought on musician, educator, and producer Craig Hara as its new music director and conductor, offering the orchestra new opportunities to reinvent the ways it delivers educational, multicultural, and inspirational orchestral experiences to the community.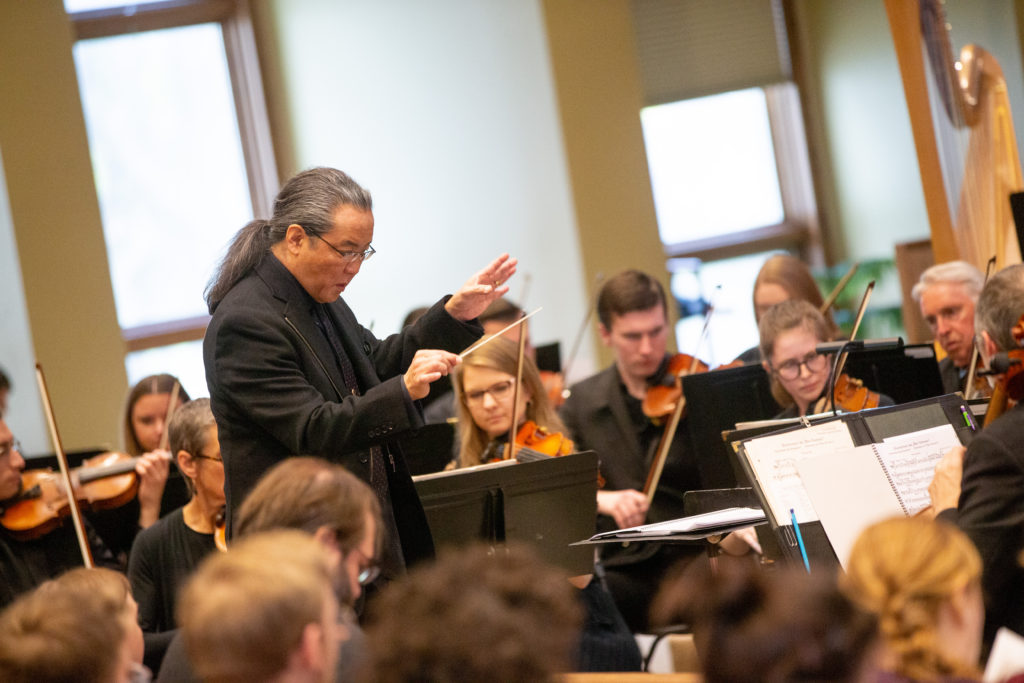 EMSO welcomes new orchestra members, as well as non-musician volunteers, to help us support and grow our artistic presence in the east metro area. If you are interested in becoming a member or volunteering visit our Join Us page to learn more.
East Metro Symphony Orchestra History Highlights
Community Service
• 2009 – Annual Side-by-Side concerts with the orchestra program of School District 833 began. Ten of these concerts will be preformed between 2009 to 2019
• 2009- present – Every season EMSO performs several concerts at local senior living residences (now known as Symphonies for Seniors), sharing music with many who would otherwise not be able to attend a live concert.
• 2011 – Benefit concert for victims of the Tōhoku earthquake and tsunami in Japan
Unique Experiences
• Members of the 3M Symphony Orchestra vote to become an independent community orchestra, renaming themselves the East Metro Symphony Orchestra (2008)
• Origins concerts with Finn Hall Band and Kisarit Finnish-American Dancers (2010); Bavarian Musikmeisters (2011); Sumunar Indonesian Music and Dance (2012); the "Niks" Bulgarian Folk Musicians and Ethnic Dance Theatre (2013); the Center for Irish Music (2015); St. Mary's Balalaika Orchestra and pianist Dr. Denis Evstuhin (2016); musician and poet Diane Jarvi (2017); and Twin Cities Nyckelharpalag and Twin Cities Swedish Folk Dancers (2018)
• Annual Home Cookin' concerts, which began in 2003, feature orchestra members as soloists
• Holiday concert performances with the Woodbury Dance Center (2009, 2012, 2013, 2014, 2016, 2018); Woodbury Community Theater (2010), Merrill Arts Center (2013, 2018); School of St. Paul Ballet (2017); and Applause Community Theatre (2019)
• EMSO hosts a Pops Cabaret event featuring live music, drinks and dessert, and a silent auction with proceeds benefiting the mission of the orchestra (2016 – 2019)
• 10th anniversary concert celebrating some of the best music, moments, and friends in the orchestra's history. EMSO honored several of its most influential members and partners during the concert including EMSO artistic director and conductor Dr. Elizabeth Prielozny Barnes (2019)
East Metro Symphony Orchestra Conductors
Dr. Elizabeth Prielozny Barnes 1999 – 2019
Craig Hara 2019 – present
East Metro Symphony Orchestra Concertmasters
Michal Sobieski 2003 – 2016
Joan Molloy 2017 – 2020
Aja Majkrzak 2022-present