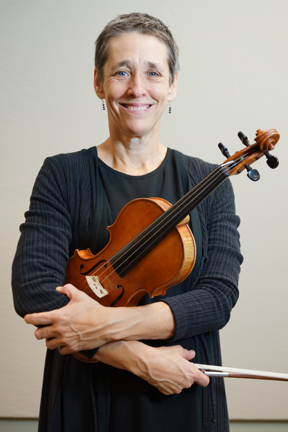 Joan Molloy is beginning her fourth season as concertmaster. Before joining EMSO she played as concertmaster for many years in Eau Claire for Eau Claire Chamber Orchestra (ECCO) and the Chippewa Valley Symphony.
Joan was first introduced to violin and the amazing sounds of orchestral and chamber music when she attended concerts with her mom as a youngster in Oberlin, Ohio.  After completing a Bachelor of Music degree at the University of Minnesota she worked as a freelance violinist in the Twin Cities and commuted to Duluth where she sat Assistant Principal Second Violin in the Duluth Superior Symphony Orchestra. When she started teaching, she was drawn to the beauty, joy and love of Shinichi Suzuki's Talent Education approach, and began her own journey and exploration as an instructor which developed into a love of learning about life through music and violin practice.
Mentors and influences include Young Nam Kim, Alice Joy Lewis, Ronda Cole, Nancy Lokken, Aaron Janse, Edmund Sprunger and David Strom. Her students at HeartStrings Studio inspire her daily in countless ways and bring beauty, love, joy and laughter.
Joan is on hiatus from performing during the pandemic. She is thrilled to be working part-time at ACE, a locally owned hardware store, where she learns something new every time she goes to work!  Joan feels extremely fortunate to live in a beautiful woods with her best friend, Jasper the wonderdog.