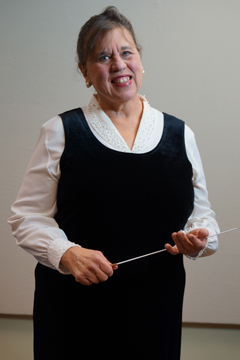 Dr. Elizabeth Prielozny Barnes was EMSO's Music Director and Conductor from 1999 to 2019.
Dr. Elizabeth Prielozny Barnes started with EMSO in 1999 and is an accomplished musician best known for her unique programming and understanding of the important role an orchestra can take in its community. She holds academic degrees from Northwestern University, Catholic University, and the University of Minnesota.
Dr. Prielozny Barnes has performed and taught extensively on both coasts of the United States as well as in her native Chicago before coming to Minnesota in 1994 to study for her doctoral degree and teach at the University of Minnesota. Developing a reputation for building bridges between arts programs at the university and out into the community, she created the Campus Orchestra and the interdisciplinary u2u outreach and education program. She continues to utilize her many years of education experience across musical genres by coaching solo musicians, chamber ensembles and orchestras.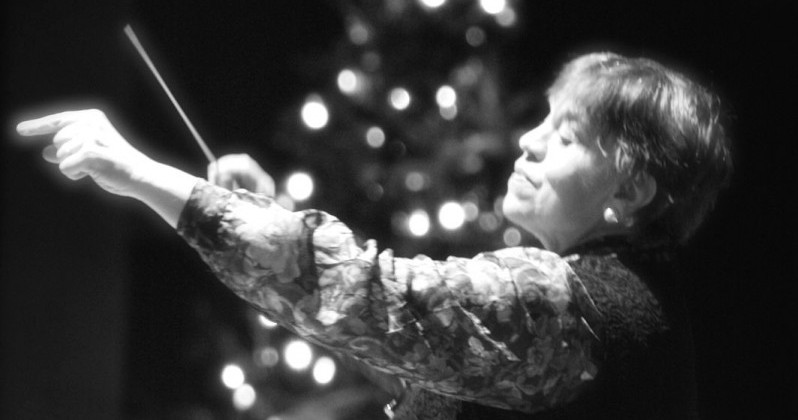 Community building has always been the centerpiece of her work, whether creating outreach programs for the College of St. Catherine Orchestra or leading Minnesota's rich arts-in-education movement as artistic director of Young Audiences of Minnesota. This focus on community building has led her to design and conduct orchestra programs that cross conventional boundaries of culture and musical genre. Working with folk music and instruments of Indonesia, Norway, Appalachian-America, Bulgaria, Paraguay and Latin America, Finland, Poland, Ireland and Germany (as well as jazz and popular musicians, singers of all disciplines, and dancers) led to creation of Vox Corda, combining classical string orchestra music with the string instruments and traditions of other cultures. As a recipient of a Minnesota State Arts Board Artist Initiative Grant, Barnes has traveled to Bulgaria and Paraguay, conducting research into the rich traditions of folk and classical music of both countries, coaching young orchestra musicians, and bringing back rich and unique resources to enrich her ground-breaking cross-cultural work.
Dr. Prielozny Barnes retired from her position as East Metro Symphony Orchestra's music director and conductor in 2019, after 20 wonderful years of musical creation and collaboration with the orchestra. Her years with EMSO taught her the profound importance that deep engagement in music can have for a lifetime, regardless of profession. As one of the state's leading orchestra clinicians and adjudicators, she endeavored to share fully with young musicians what EMSO members demonstrate so masterfully, that a rich connection with orchestra music adds richly to an individual's life and to their community.