(or, How is it that EMSO and the Trinity Lutheran Choir are performing Mendelssohn's Lobgesang next weekend?)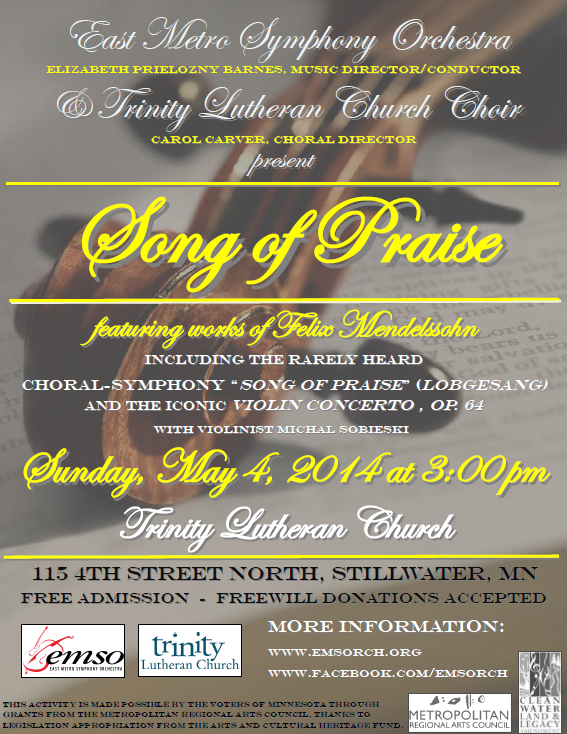 It turned out that the Valley Chamber Chorale already had their 2013-2014 season already set, but Carol mentioned that she also directed a fine church choir in Stillwater, and perhaps a shared performance between EMSO and her church choir – at Trinity Lutheran Church – might not just be feasible, but a fruitful partnership.
So how does one music director decide to create a collaborative performance project with another music director she has just met, and with a performing group she's never heard or seen? You'd have to ask Carol Carver what her thought process was, but for me it was simply by sitting across the table over lunch talking, getting a sense of the potential partner's musical ethic based on learning about their own background and history. You can get a pretty good sense from this type of conversation whether your potential partner approaches their music making and leadership from a perspective that would align well with your own. In the best case scenario you also have an opportunity to watch your potential partner and her ensemble in action, but it that is not possible (which it wasn't in this case) you simply follow your instincts. Apparently we both had a good feeling about each other – enough to trust that the work each of us would do with our ensembles would bring us to a satisfying joint musical experience for ourselves, our musicians, and our audiences. So right then and there we decided to jump in and plan to prepare a concert together for the following spring.
Next was to choose a date, as far past the busy Easter and spring break season as possible, and yet not too far into the spring to interfere with upcoming summer plans. EMSO usually presents its final performance of the season in the later part of May, but the Trinity Church choir usually finishes its work together in early May. EMSO traditionally presents its concerts on Sunday afternoons, so it was Sunday afternoon, May 4 that we agreed upon, and which Carol soon discovered would work with the church's busy calendar of events (and springtime weddings which could interfere with a Saturday dress rehearsal).
Finally, we had to decide what to perform. EMSO had a magnificent experience in 2011 performing the Brahms Requiem with a consortium of Woodbury church choirs, so I held that as a model to work toward. Carol mentioned that she had found choral parts in her library to a very rarely heard work by Felix Mendelssohn, his Lobgesang (translated as Song of Praise, or Hymn of Praise). I gave it a listen and perused the orchestra score courtesy of the remarkable IMSLP website, and thought this could be a very good joint work, so gave it the go ahead, and our plan was afoot!
The Lobgesang apparently was very popular when Mendelssohn first composed and conducted it as one of his signature works back in the day. But performances are so rare these days in the U.S. that I've actually never heard it performed live, or even heard of a live performance. It starts out as a conventional symphony, with about 30 minutes of pure orchestra music divided into 3 sections, just like the first 3 movements of a symphony. But then instead of finishing it off with a rousing allegro 4th movement, Mendelssohn suddenly breaks into a big work for SATB chorus, 3 vocal soloists, organ and orchestra! Thus this work has been unofficially labeled a "choral-symphony" or "symphony-cantata." The audience is regaled with 9 (or 10, depending on how you count them) songs for various combinations of chorus, vocal soloists, organ and orchestra, all centered around the theme of praising God 's greatness. I guess it's hard to be surprised when a big chorus, soloists and organ jump into the performance if you see them standing before you, but from simply a musical perspective it's absolutely stunning to almost be finished with a strictly symphonic work and suddenly have it break out into a big choral cantata! There are those who speculate that this awesome, massive work has fallen out of popular favor because the cantata part of it doesn't follow a strong arc in its narrative – no "He said, then she said, then they did this and it all ended happily / it all ended sorrowfully." Instead it is a set of different vocal iterations on how and why God's greatness should be praised. It's almost like a choral version of making a list of things you're grateful for rather than a narrative that comes to the conclusion that God (or higher power, or life force, or however you wish to define this) is great and worthy of ceaseless praise.
So here I sit, one week away from our performance, and still haven't heard or seen the choir yet (since up until last weekend their rehearsals focused strongly on the Easter season, and since then I've been busy adjudicating high school music contests during their regular rehearsal times). I heard they are singing part of the Lobgesang at tomorrow morning's church service, so I'll be driving out to Stillwater tomorrow morning, to see Carol and her choir in action and to get my first look and feel for the church sanctuary where we will be performing next Sunday. I met and worked with the 3 solo singers last Saturday, and they came to work with the orchestra this past Tuesday (which excited everybody since we received the very first glimmers of what the ultimate performance will entail). The orchestra rehearses by itself for the last time this Tuesday. (Oh, did I mention that Michal Sobieski, our concertmaster is going to perform the Mendelssohn Violin Concerto on this program? In the end there wasn't enough time for the chorus to learn all of the vocal movements to Lobgesang between preparing for the Easter season, so we needed to fill more time in the program and thought there could be no better companion to a big Mendelssohn work than another big – and much more familiar – Mendelssohn work, expertly performed by our own world-class violinist.) On Wednesday EMSO travels to Trinity Lutheran Church to meet and rehearse with the chorus and organ for the first time, on Saturday morning we will have a dress rehearsal of the entire program, and then next afternoon Sunday we will have it all ready for you to come and experience. And in addition to a unique and magnificent musical experience we'll be serving cookies afterwards! It is a very, very busy weekend for performances next weekend, but we hope you will consider coming to join us.
Elizabeth Prielozny Barnes
Music Director and Conductor
Song of Praise
Presented by the East Metro Symphony Orchestra and Trinity Lutheran Church Choir
Sunday, May 4 at 3:00 p.m.
Trinity Lutheran Church
115 N. 4th St., on the corner of 4th St. and Myrtle in downtown
Stillwater, Minnesota 55082
Admission is Free!
(We will collect a freewill offering to help defray expenses.)