2016-2017 Season
Chapter One: Friendship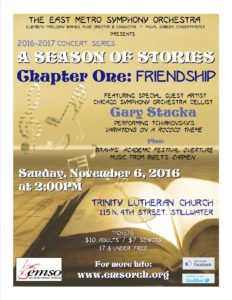 Sunday, November 6th, 2016 – 2:00PM
Trinity Lutheran Church
115 North 4th Street
Stillwater, MN
This concert reunites three childhood friends – EMSO Music Director and Conductor Dr. Elizabeth Prielozny Barnes, special guest Chicago Symphony Orchestra cellist Gary Stucka, and violinist Robin Fossum. A wonderful concert featuring Tchaikovsky's Variations on a Rococo Theme, and a performance of Bizet's Carmen Suites with narration to tell the story of the Spanish gypsy, Carmen.
Chapter Two: Holiday Dreams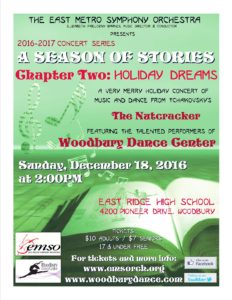 Sunday Afternoon, December 18th, 2016 – 2:00PM
East Ridge High School
4200 Pioneer Dr
Woodbury, MN
The Nutcracker ballet has long been a staple of the holiday season. Traditionally told through the sumptuous music of Tchaikovsky and ballet, the fanciful tale is the story of a young girl whose favorite Christmas toy, a nutcracker, comes to life with their journey to a magical kingdom.  EMSO and WDC will once again present this beloved classic with a new twist, not only presenting the story through classical ballet, but also with contemporary, tap, hip-hop, and other styles of dance throughout the performance.
 Chapter Three: Romance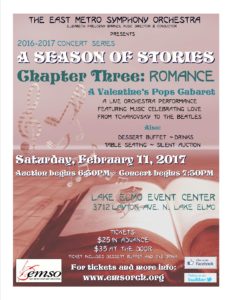 Saturday Evening, February 11th, 2017 – 6:30PM
Lake Elmo Inn Event Center
3712 Layton Ave N
Lake Elmo, MN
Last season's first Pops Cabaret was so well received that EMSO is bringing it back again this season, just in time for Valentine's Day. Join us with a group of your favorite people to hear music from Tchaikovsky's Romeo and Juliet and Bernstein's West Side Story, and participate in our second annual silent auction.
Chapter Four: Generations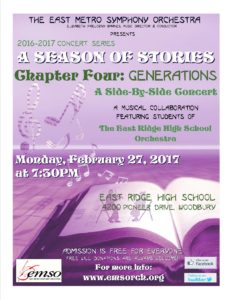 Monday Evening, February 27th, 2017 – 7:30PM
East Ridge High School
4200 Pioneer Dr
Woodbury, MN

EMSO's annual Side-by-Side performance where EMSO members will play classics alongside the orchestra students of the East Ridge High School.
Chapter Five: Traditions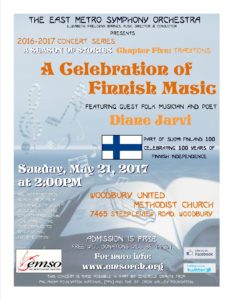 Sunday Afternoon, May 21st, 2017
Woodbury United Methodist Church
7465 Steepleview Rd
Woodbury, MN
Join EMSO in celebrating Finland's 100th birthday! This Origins series concert will featuring Finnish folk musicians and present the folk and classical music of this wonderful Nordic country. More…