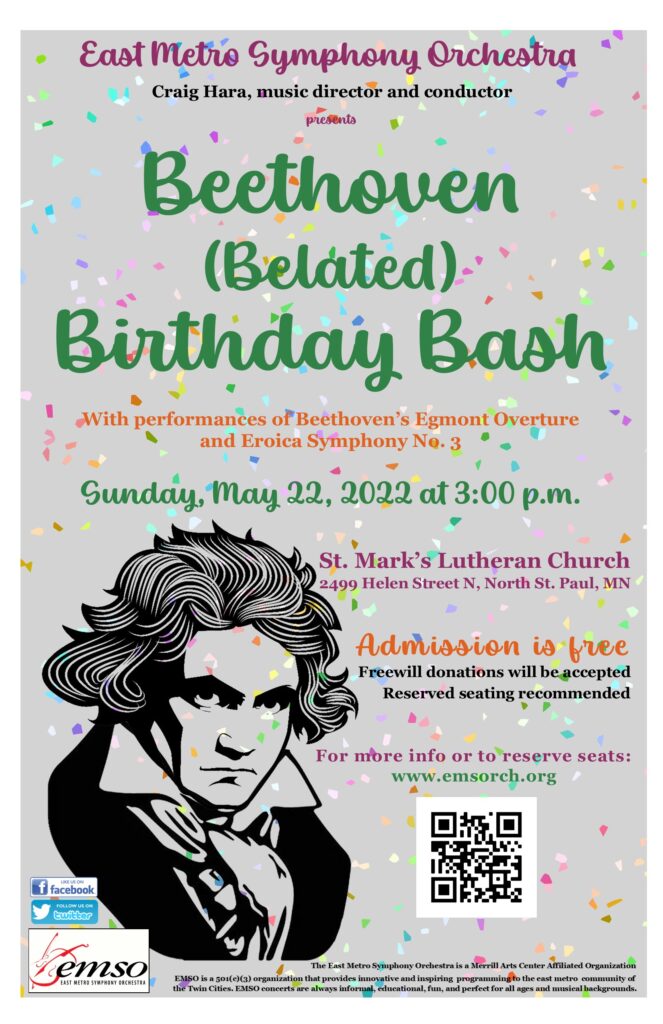 Sunday, May 22, 2022 at 3:00 PM
St. Mark's Lutheran Church 2499 Helen Street North North St. Paul, MN 55109
East Metro Symphony Orchestra (EMSO) is pleased to present Beethoven (Belated) Birthday Bash, a concert honoring the music of Ludwig van Beethoven. The performance will be held Sunday, May 22, 2022 at 3:00 p.m. at St. Mark's Lutheran Church, 2499 Helen Street North, North St. Paul, MN. Admission to this concert is free. Donations in support of the orchestra's work in the community are always appreciated.
Beethoven (Belated) Birthday Bash is a revision of a concert EMSO originally scheduled for May 2020 in celebration of Beethoven's 250th birthday. But the Covid-19 pandemic forced the orchestra to cancel that concert.
Now, EMSO is back to celebrate this birthday milestone with a "belated" concert featuring some of Beethoven's greatest musical pieces including Symphony No. 3, Symphony No. 7, and Egmont Overture. The concert will also feature Romance in F Minor by "party crasher" Antonín Dvorak, with a solo performance by EMSO's concertmaster Aja Majkrzak.
St. Mark's Lutheran Church currently limits audience size to 200. Reserved seats are recommended but not necessary. Remaining available seats will be filled on a first come, first serve basis on concert day.
Masks are no longer required but are encouraged when in the building.