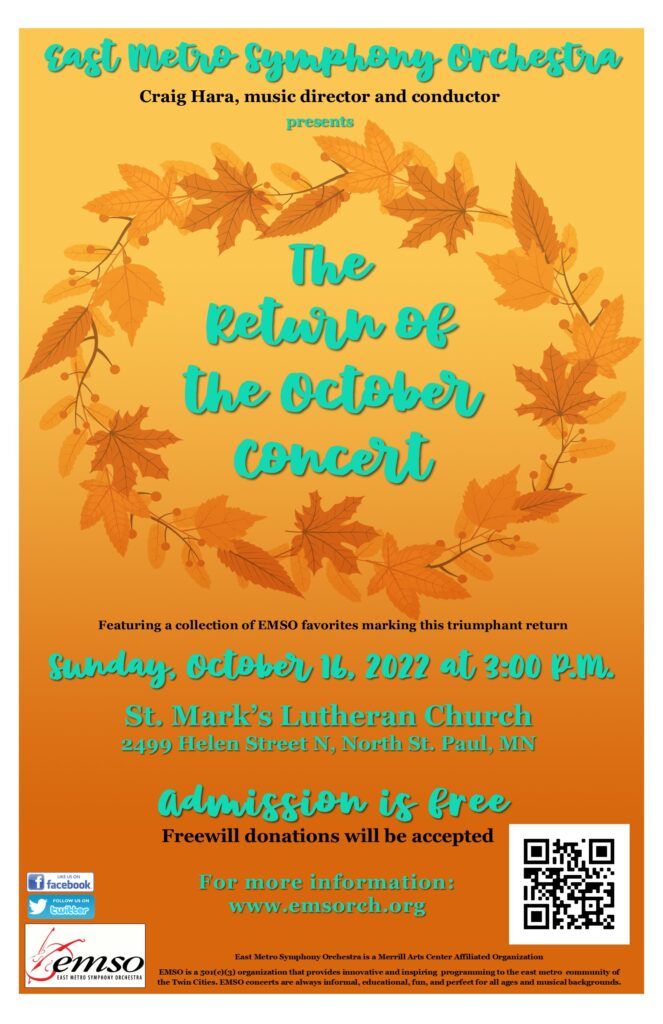 Sunday, October 16, 2022 at 3:00 PM
St. Mark's Lutheran Church
2499 Helen Street North
North St. Paul, MN 55109
EMSO is pleased to present The Return of the October Concert, the first fall concert the orchestra has performed since 2019. Admission to this concert is free. Donations in support of the orchestra's work in the community are always appreciated.
The Return of the October Concert marks the triumphant return of the orchestra's fall performances, which have been canceled for the last two years because of the Covid-19 pandemic. The concert is the first in a series of concerts for the 2022-2023 concert seasons designed to inspire hope and create musical endeavors that bring joy to both EMSO musicians and audiences alike.
This first concert is scheduled to feature a collection of EMSO favorites including Franz Schubert's Unfinished Symphony 8, Gustav Holst's Saint Paul Suite, Edward Elgar's Nimrod from Enigma Variations, and Aaron Copland's Fanfare for the Common Man.
EMSO will not be offering reserve tickets for our concerts this season. All concerts continue to be free and admission is at the door.