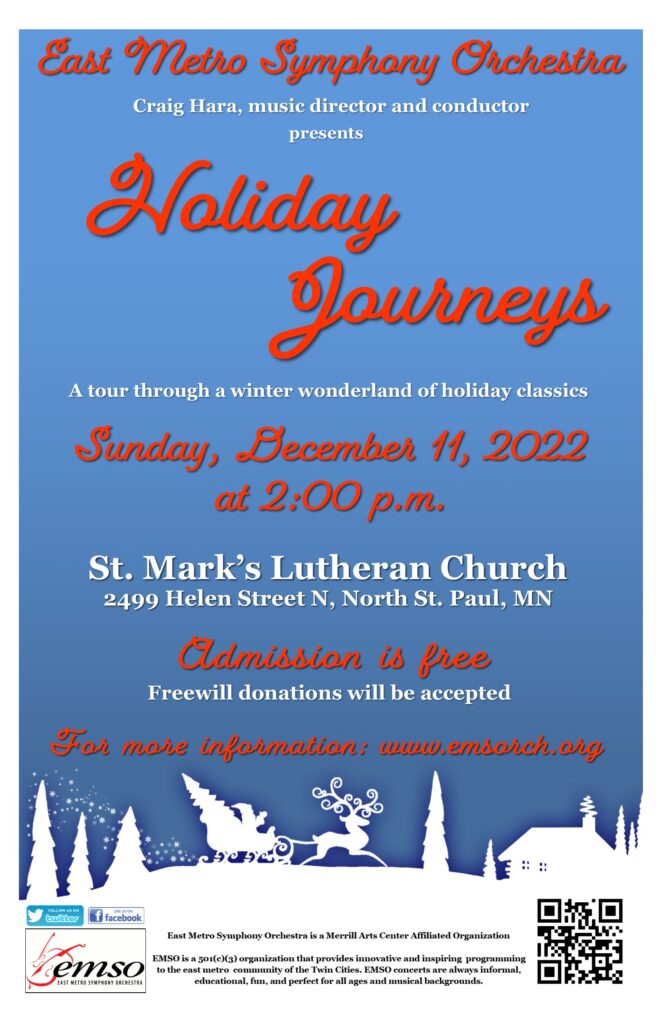 Sunday, December 11, 2022 at 2:00 PM*
St. Mark's Lutheran Church
2499 Helen Street North
North St. Paul, MN 55109
East Metro Symphony Orchestra (EMSO) is pleased to present Holiday Journeys, a musical tour through a winter wonderland of holiday classics. The performance will be held Sunday, December 11, 2022 at 2:00 p.m. at St. Mark's Lutheran Church, 2499 Helen Street North, North St. Paul, MN. Admission to this concert is free. Donations in support of the orchestra's work in the community are always appreciated.
Holiday Journeys will feature several EMSO holiday favorites including Leroy Anderson's Sleigh Ride and Christmas Festival and the always popular Holiday Sing-Along. New highlights from this concert will include Wolfgang Amadeus Mozart's German Dance, selections from Pyotr Tchaikovsky's Swan Lake, Ukrainian Bell Carol, and others.
EMSO will not be offering reserve tickets for our concerts this season. All concerts continue to be free and admission is at the door.
*Please note the change in time for the Holiday Journeys concert. The concert will now be presented at 2:00 PM instead of 3:00 PM.