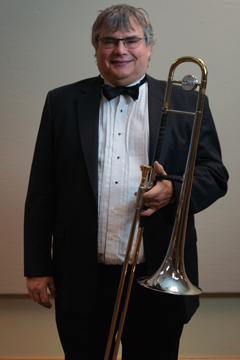 Mark joined EMSO in 2005.
Mark became a member of the former 3M Symphony Orchestra after subbing a few times and getting hooked. In 2019, he retired from his 36-year career with 3M. He left 3M as an Engineering Specialist and the corporate expert in contamination control.
Although his career was technical, music has always been a major part of his life. At Gustavus Adolphus College in St. Peter, MN, Mark received a Bachelor of Arts in Physics with minors in Music and Mathematics. While there, he played trombone, and sometimes tuba, in the Trombone Choir, Chapel Brass, Concert Band, Symphonic Band, Jazz Band, Symphony Orchestra, Brass Choir, GAMPEC, and the Hoffalo Lake Brass Trio. He then went on to receive his MSEE from the University of Minnesota where he played in one of the University's jazz bands and taught trombone in south Minneapolis. 
Along with EMSO, he is a charter member of the Bend in the River Big Band and does a small amount of freelance work (let him know if you need a trombone!) Mark plays a 1967 Conn 48H "Constellation" Tenor Trombone (and sometimes, his ~1912 JW York "Monster" Eb Tuba.) 
Mark currently serves on the EMSO Board of Directors.