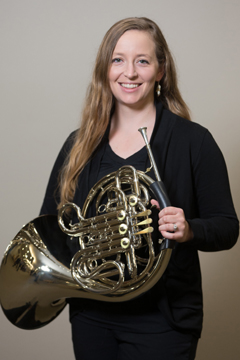 Brianna joined EMSO in the spring of 2018.
She grew up in Tea, South Dakota and currently resides in Inver Grove Heights. She comes from a long line of musicians, which includes her mother, who has been a church organist since the age of 13, and her grandmother, who played in a band in the 1930s. Brianna chose to play the French horn because no one else in her grade school band played it.
She is a music therapist and uses music to help comfort and heal people with serious illnesses. She enjoys performing with EMSO because it offers her time to make music simply for pure enjoyment.
In her free time, Brianna enjoys running, playing soccer, and reading.