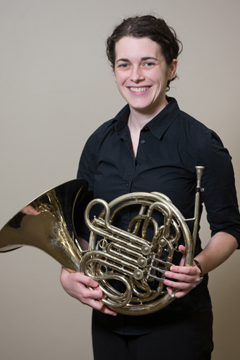 Caitlin Race joined EMSO in 2019. She plays an Elkhart H-Series Conn 8D French Horn.
Caitlin grew up in Eagan, MN and currently lives in Minneapolis with her rescue mutt, Carmel. She works as a research engineer at 3M.
Her hobbies include biking, rock climbing, cross-country skiing, reading, and doing puzzles. EMSO is a great way for her to keep playing music and be part of the orchestra community.