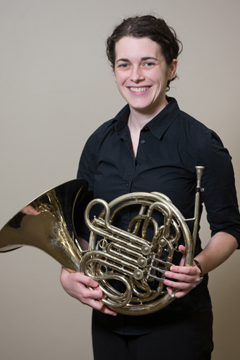 Caitlin Race joined EMSO in 2019. She plays an Elkhart H-Series Conn 8D French Horn.
Caitlin grew up in Eagan, MN and currently lives in Stillwater with her partner, Brad, and their two rescue dogs, Carmel and Sofie. She works as a research engineer at 3M.
Her hobbies include biking, hiking, cross-country skiing/skijoring (skiing with her dog, Sofie, pulling), and doing puzzles. EMSO is a great way for her to keep playing music and be part of the orchestra community.
Caitlin is currently serving as secretary on the EMSO Board of Directors.