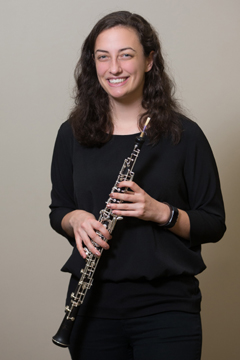 My name is Haley Martin. I first played with EMSO during our side-by-side concerts when I attended East Ridge High School in 2015.
In 2018, when I was a member of the River Falls Wind Ensemble at UWRF, I was told to look into EMSO. I remembered how fun it was to join the group for the occasional concert, so I looked into it, and officially became a member in January of 2018. I play the oboe and English horn [the coolest instruments ever!]. I was raised and currently still reside in Woodbury.
Outside of EMSO, I love to practice piano, knit, paint, and rock climb! My family includes myself, my older brother Patrick, my mom Suzanne, dad Scott, and our two dogs, Molly and Scotty. I love being a part of EMSO because it allows me to continue my passion of making music with others. It is one thing to play a piece of music by yourself, it is a whole different experience when you put all the puzzle pieces together. I love the rush you get when a piece truly comes together – it seems like everyone gets goosebumps. That's how you know you did something right.