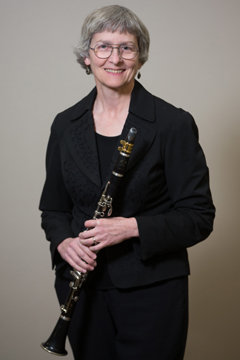 Phyllis Comstock joined EMSO in 2016 as 2nd clarinetist, playing on a Buffet R-13 with a Kaspar mouthpiece. Besides orchestral playing, she enjoys wind band and performs with the Encore Wind Ensemble, where she was a founding member in 1996, as well as the Como Pops during the summertime.
Phyllis grew up in Chatfield, Minnesota where she started playing clarinet in the ninth grade. While a student at Luther College, she was privileged to sing in choirs directed by Weston Noble. During the summertime breaks while in college, Phyllis played in the Chatfield Brass Band, where she was introduced by her father, a trumpet player, to her future husband Paul, a percussionist. After graduating from Luther College, Phyllis moved to the St. Paul area, took lessons from Jeffrey Youngstrom, and played in several groups before the current ones, including the Minnesota State Band, Lakewood Community College Band, Lakewood C. C. Orchestra, UW-River Falls Orchestra, Wooddale Church Orchestra, Dolce Wind Quintet, and pit orchestras for Como Park Summer Theater and Anoka Opera Company.
Phyllis is now retired but spent her 39-year work career at 3M Company as a chemical engineer in product development and product maintenance.
Besides music, her hobbies are family history writing and archiving, photography, image editing, learning Dutch, studying European history, travelling that includes day hiking, and pulling buckthorn at their home in Grant. Someday she plans to learn to play violin and to learn how to cook.
Phyllis strongly values the joy and benefits that community music brings to both performers and audiences and encourages anyone with an interest to join in.