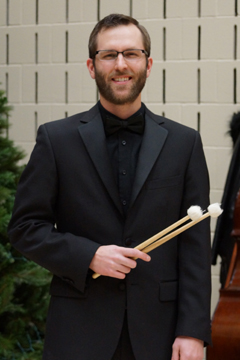 Jake Dalbec joined EMSO in 2012. He is the principal percussionist for EMSO.
Jake primarily plays timpani along with several rhythm and auxiliary percussion instruments. He works as a senior geologist and project manager in the environmental consulting industry.
He grew up in Silver Lake, MN and currently lives in St. Louis Park, MN.
He enjoys traveling, golfing, fishing, backpacking, downhill skiing and playing a variety of sports in addition to music.
Jake is currently serving as Operations Manager for EMSO. The role entails arranging the safe transport and availability of orchestral equipment, instruments and sound equipment to rehearsal spaces and concert venues as necessary.