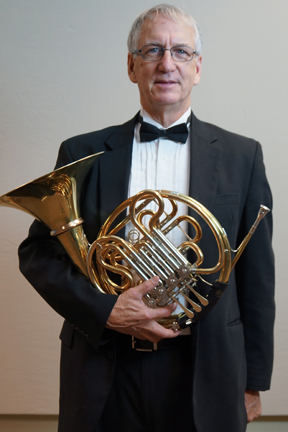 John Sassaman joined EMSO in 2014. Currently he plays a Paxman descant and 1964 vintage Conn 8D.
John grew up in Pennsylvania. John lives in Lindstrom, MN, a beautiful city north of Stillwater. John's hobbies include a strong appreciation for music, listening to it, and playing it (obviously).
John is employed as a lead software engineer. He received his Bachelor of Music degree at Manhattan School of Music, and has played the horn since the age of 10. He won a concerto competition at Manhattan with his future wife (Karen, an accomplished oboist), playing Mozart's Symphonia Concertante.
John has played with various groups in the Twin Cities, and is the first hornist for Exultate, a Lutheran chamber orchestra and chorus. The horn teachers most influential to John were Clarence Mayer of the Philadelphia Orchestra, and Martin Smith of the St. Paul Chamber Orchestra and New York Philharmonic.
He enjoys music, genealogy, and farming.