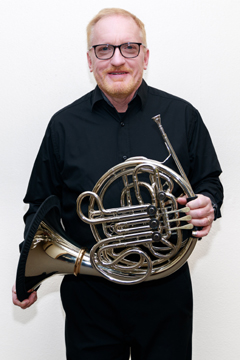 Dwight Erickson joined the 3M Symphony Orchestra in 1979 and continues to perform with EMSO. He plays a King Double French Horn.
Dwight grew up in Jordan, MN and played French horn and mellophone in marching and concert band there as well as concert band at Hamline University. After obtaining a BA degree in chemistry at Hamline and a graduate degree in Materials Science and Engineering at the University of Minnesota, Dwight joined 3M as a materials scientist working in ceramic research. Wanting to maintain his musical interest, Dwight was encouraged to attend a rehearsal of the 3M Symphony Orchestra, which eventually became the East Metro Symphony Orchestra. he had never played with an orchestra (or string instruments) before! The rest is history.
In addition to his activities with the orchestra, Dwight serves on the Board of Directors of the Evergreen Community Association and volunteers in various student educational activities at Hamline University. He is a biking enthusiast, cross-country skier and enjoy summer yard work. He lives with his wife and daughter (another aspiring French horn and mellophone player) in Woodbury.
Dwight currently serves on the EMSO Board of Directors.