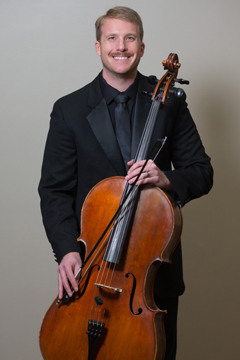 Mike started playing with EMSO in 2019 after his cello had been collecting dust for 10 years. It was like riding a bike and before long he was not just playing with the orchestra, but also joined and organized multiple string ensembles to play for fun and at senior living centers.
He has an eclectic taste, enjoying the challenge of playing difficult solo works as well as fun orchestral arrangements. Mike is also pretty darn good at playing the acoustic guitar!
Outside of EMSO, Mike coordinates the MN state seed program for the MN Department of Agriculture. Mike did ecology-based research while obtaining a masters (UWL) and bachelors degrees in biology (UMN) and enjoys all things outdoors. Some of his favorite trips have been to Ireland, Glacier National Park, snowboarding in Colorado, and of course the Boundary Waters Canoe Area in northern MN.
In his spare time, Mike also likes to do woodworking and home projects, fly fishing, and being active. He also loves his wife, Marissa, and two cats, Cider and Willow.
Mike currently serves on the EMSO Board of Directors.