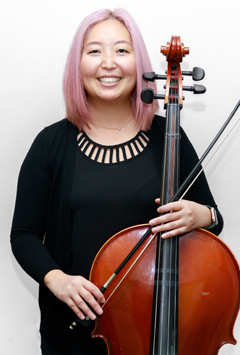 Nahree Ki joined EMSO in 2018. She currently plays the cello in EMSO, but has also performed on the piano and bass in previous groups! She is also okayish at the guitar. In between rehearsals, she plays for church services in Columbia Heights.
Outside of EMSO, Nahree works at 3M in biopharmaceutical separation and purification technology. She has a bachelor's degree in Chemistry and an MBA from UIUC.
She grew up in Chicago, IL and currently lives in Minneapolis, MN. After 7 years of especially arduous winters, she has finally embraced the long winters and enjoys the art of ice skating while nursing a thermos of hot chocolate. She recently bought herself a pair of snowshoes to double down on Minnesotan winter life.
Nahree also loves to paint, read, care for her indoor plant jungle, and travel whenever possible. One last thing – she has a weakness for groan-worthy, terrible music puns. In fact, she "Ravels" in them.