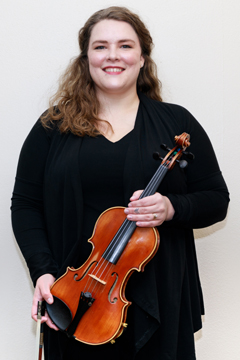 Racheal joined EMSO in the fall of 2021, to play violin in the second violin section.
She grew up in Anoka MN, and now she lives in Minneapolis with her husband and 2 cats. Minneapolis has been home for 9 years, and also the location of her massage therapy business called Paradox Bodywork. 
Racheal has cycled through learning other instruments throughout the years, but violin has been her primary instrument for (23!) years. She played violin in a five-part indie rock band called Marx and the Yogis after college, but to her, nothing beats the permeating sound experience of being in the middle of an orchestra. 
Racheal takes part in Symphonies for Seniors (EMSO's small volunteer performance group), and she's excited to keep growing and rebuilding her skills with EMSO.