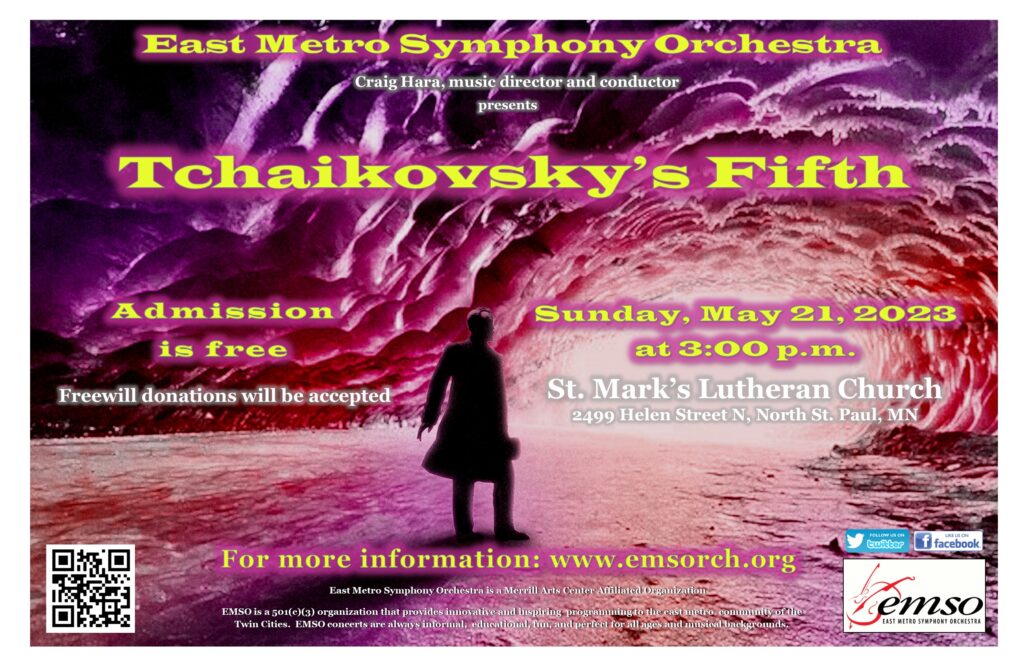 Sunday, May 21, 2023 at 3:00 PM
St. Mark's Lutheran Church
2499 Helen Street North
North St. Paul, MN 55109
Join us this spring as East Metro Symphony Orchestra (EMSO) presents Tchaikovsky's Fifth. The performance will be held Sunday, May 21, 2023 at 3:00 p.m. at St. Mark's Lutheran Church, 2499 Helen Street North, North St. Paul, MN.
Admission to this concert is free. Donations in support of the orchestra's work in the community are always appreciated.
This is one of the few times EMSO has had a single symphony be the focus of an entire concert. Tchaikovsky's 5th Symphony is a grand orchestra piece with a cyclical style but no clear program.  It is often suggested that this symphony is about a confrontation or conflict with fate. While Tchaikovsky's 5th Symphony will dominate the majority of the program, the concert will also feature music by Johannes Brahms and Frederick Delius.
EMSO will not be offering reserve tickets for our concerts this season. All concerts continue to be free and admission is at the door.