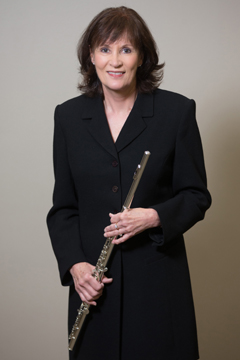 Patty Cook became a full time member of EMSO in 2015. She plays a Pearl Elegante Flute.
Patty began playing the flute in 5th grade, because her mom suggested the flute sounds "like a bird." Despite the fact it took a month to master the mouthpiece alone, she has never been sorry for her mother's early guidance, as she simply loves it. She enjoyed 8 years of private lessons, but then had to limit her musical endeavors in order to attend the medical school at the University of Minnesota and then for her career practicing emergency medicine.
Ten years ago, she began to devote more time to music, first joining the South of the River Band in Eagan. But always desiring to play with an orchestra, she began substituting for EMSO in 2000, playing the flute and piccolo.
She is now retired. She volunteers at the Ames Center and Artistry theater as an usher and for Open Arms in their farms. She also plays with her hometown community band, The Windjammers, in the summer under the direction of her high school band director.
In her free time, Patty enjoys kayaking, cross country skiing, woodcarving and cooking. She also volunteers as EMSO's historian.