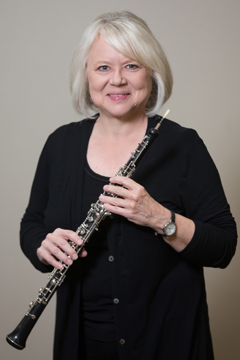 Leanne Ekstadt- Oboe
Leanne was raised in Pipestone, Minnesota, and started playing oboe after switching from clarinet in the eighth grade. She earned a B.A. in music education from Gustavus Adolphus College in St. Peter, Minnesota, where she studied oboe with Thomas Tempel and Marilyn Ford, while playing in Concert Band and Orchestra. Upon graduating in 1979, Leanne was asked to join EMSO (formally the 3M Club Symphony Orchestra) and has been a member ever since. She is a member of Key Notes Trio, performing at weddings, private parties and corporate functions, and is a member of Quintessentials Woodwind Quintet.
Leanne's career is in business and she holds an M.B.A. from the University of St. Thomas in St. Paul, Minnesota. She has held positions at Fingerhut Corp., Deluxe Corp., Ceridian and is currently employed as a Pricing Manager at Optum.