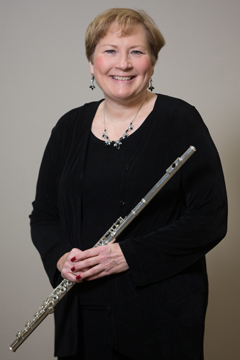 Brenda Renalls joined EMSO in 2007. She plays flute and piccolo.
Brenda's musical career started with piano and baton lessons (YMCA Marching Band) in grade school. She switched to the flute when the band director (also a female flautist) told her that she had the right mouth structure for flute playing and offered to give her private lessons.
By junior high she was playing both flute and piccolo. Her first solo was "Stars & Stripes Forever". As a junior high student, she auditioned for a Moorhead State College program and was the only student accepted who was not enrolled at MSC (now Moorhead State University). The program was weekly private lessons from Emil Opava (Principle Flutist with the Minnesota Symphony, now known as the MN Orchestra).
During high school, Brenda played in orchestra, concert band, and marching band. Her senior year she soloed on "Carnival of Venice" accompanied by the concert band.
Brenda attended the University of North Dakota (majoring in Chemical Engineering) and played with one other flute player in the UND Chamber Orchestra throughout her college career. During college she also played her flute in area churches and took ballroom dance classes.
Upon graduation from UND (B.S. in Chemical Engineering) Brenda joined 3M in the Film & Allied Products Division (Product Development Engineer) in 1980. She began playing with the Hamline University Band and soon after with the 3M Symphony Orchestra. After marriage to Carl and the birth of her daughter, Natalie, Brenda took 21 years off from the 3M Symphony Orchestra while working and traveling internationally for 3M. She returned when invited to play in 2007 for the 3M Symphony Orchestra's 50th Anniversary Concert and has been with the orchestra ever since. Brenda's husband, Carl, gave her a piccolo for her birthday so she has been playing both flute and piccolo with the EMSO in recent years.
After retirement from 3M (36 years later) as a Global Laboratory Manager in the Renewable Energy Division, she continues to happily play her Gemeinhardt 3SS Flute and Gemeinhardt 4RSP Piccolo with EMSO.