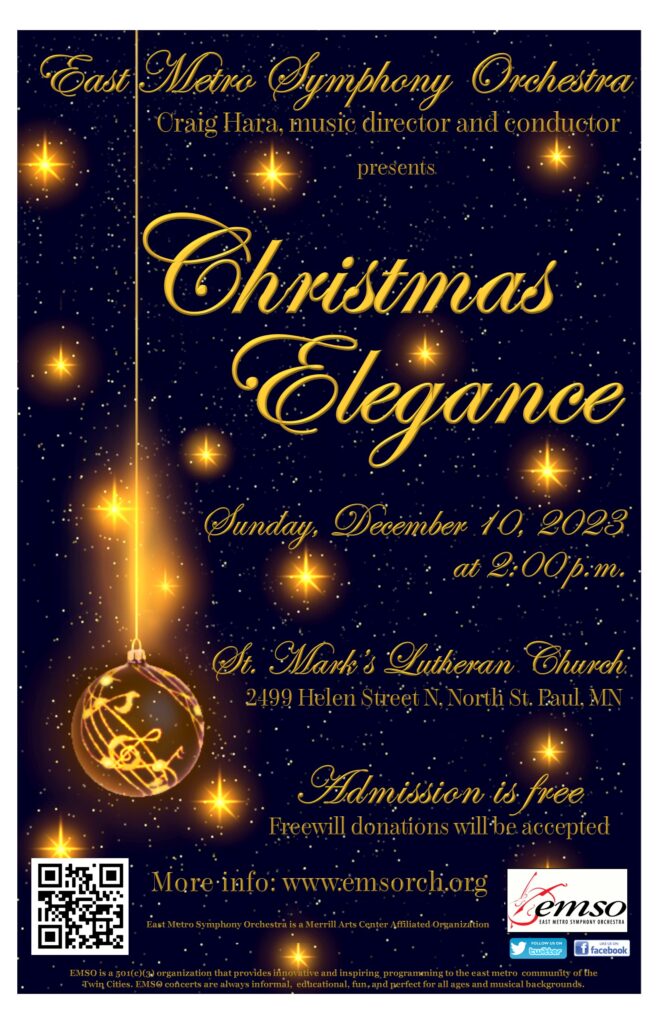 Sunday, December 10, 2023 at 2:00 PM
St. Mark's Lutheran Church
2499 Helen Street North
North St. Paul, MN 55109
East Metro Symphony Orchestra (EMSO) is pleased to present Christmas Elegance. The holiday concert will be held Sunday, December 10, 2023 at 2:00 p.m. at St. Mark's Lutheran Church, 2499 Helen Street North, North St. Paul, MN.
Admission to this concert is free. Donations in support of the orchestra's work in the community are always appreciated.
EMSO's holiday concert will include an eclectic collection of holiday favorites and classical music.  In addition to pieces EMSO has traditionally included in their holiday performances, like Leroy Anderson's Sleigh Ride and a holiday Sing Along, the concert will feature a few new holiday songs including Samuel Coleridge-Taylor's Christmas Overture and contemporary composer Quinn Mason's Christmas Eve Festivities for Orchestra. 
The orchestra will also perform several classical selections chosen to brighten holiday spirits, including selections from Handel's Messiah, Tchaikovsky's Sleeping Beauty Suite, and Waldteufel's The Skater's Waltz.
All EMSO concerts are free and admission is at the door.