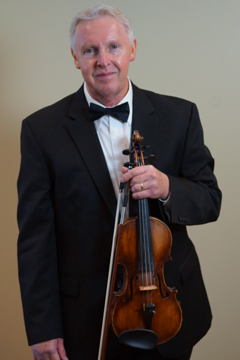 Dave Englund joined EMSO in the spring of 2018. His violin was made in Germany in 1758. Age doesn't make a violin good, but Dave appreciates how the centuries of playing contribute to the beautiful, mellow voice if the violin.
Dave worked as a Minneapolis. Public Schools music teacher for 31 years, until retiring in 2015. Most of that time, he taught strings and orchestra.
Outside of music, his hobbies are vegetable gardening and taking care of three dogs and one cat (one of those dogs and the cat are blind!). Dave's wife, Barbara, is also a retired Minneapolis music teacher, and plays the cello for EMSO.
Dave says "To play in an orchestra is to experience great art in a direct personal way. I thank EMSO for giving me this experience."