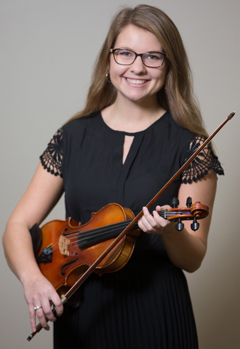 Makayla Lakeman started playing the violin in 6th grade, and continued playing in numerous orchestras through college. She joined EMSO in 2019 to continue playing after graduation.
Makayla graduated with a Masters in Architecture from NDSU and is currently working at an Architecture firm in St. Paul. She grew up in Blaine, MN and since starting work
full time, moved to Midway St. Paul.
Outside of the violin, Makayla likes to travel, paint, XC ski, and do just about any water sport at her family's cabin with her two younger sisters. Music has been a part of her
life since she started playing piano in first grade, and has continued to open doors and shape friendships and career for her.
She says "EMSO is a great community of people that all love music enough to donate their time to share it with others in the metro area, and I'm happy I can be a part of it."