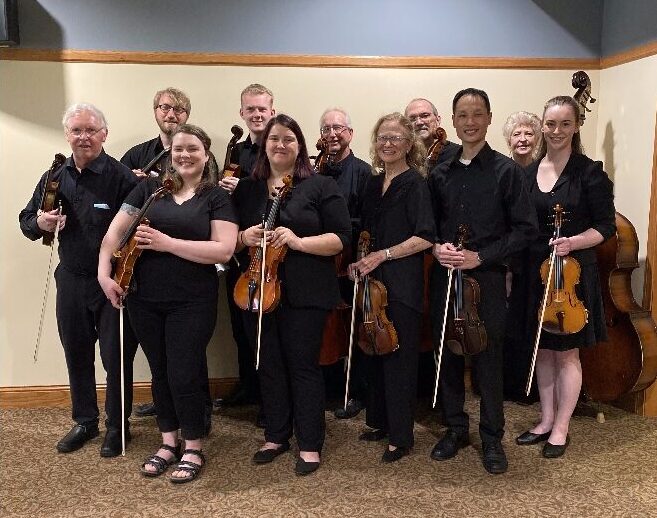 East Metro Symphony Orchestra is excited to continue to present our Symphonies for Seniors concerts during the upcoming season. Symphonies for Seniors concerts are free performances at senior living facilities, designed to provide senior citizens with disabilities, health issues, and other mobility problems the opportunity to experience live music.  EMSO was fortunate to get a grant last spring from the Minnesota State Arts Board to continue to offer these special concerts and this year EMSO's East Metro Chamber Ensemble will be presenting several of them around the east metro at senior living residences to help support this underserved population.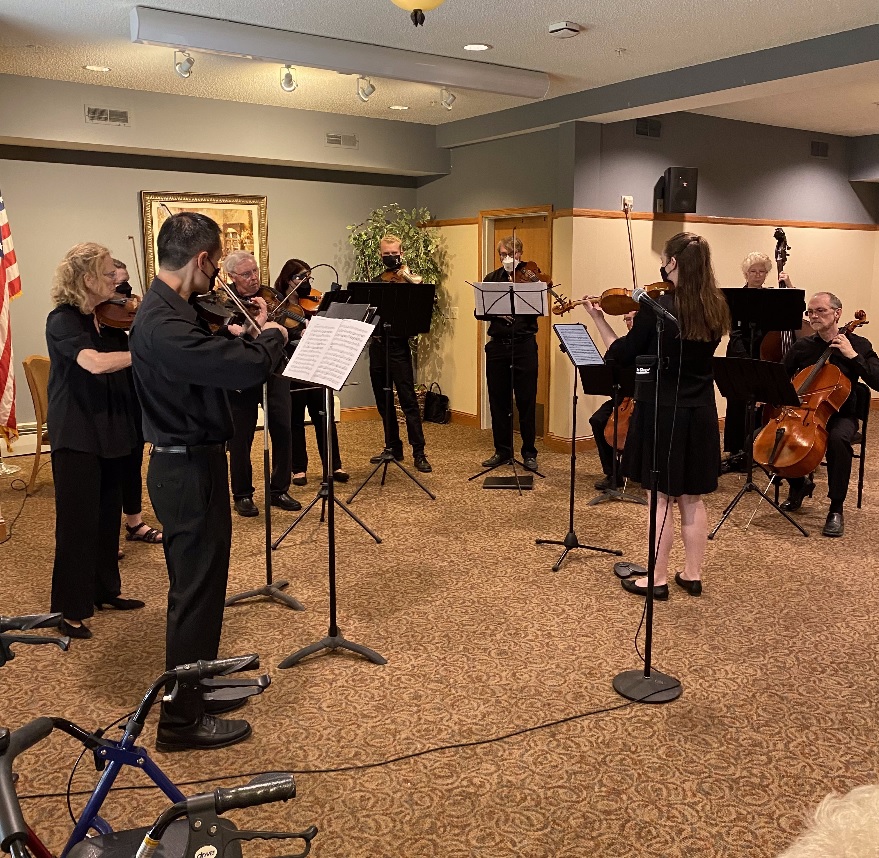 The Symphonies for Seniors concerts began in 2012 as three to four full orchestra concerts per season scheduled on Tuesday nights at senior living facilities in lieu of an orchestra rehearsal.  These concerts were halted, along with all of EMSO's other concerts, in 2020 due to the Covid-19 pandemic.  In December 2021, EMSO resumed Symphonies for Seniors concerts, but due to concerns about the health and safety of both the audiences and the musicians and space limitations, the concerts now feature small ensembles of musicians performing on Sunday afternoons.




"The Symphonies for Seniors ensemble performances are a fun opportunity," says EMSO president James Slegers. "It is an opportunity to play with a smaller group and perform for an inviting and enthusiastic audience. Audience members are friendly and inquisitive and really interested not just to hear some familiar music, but to learn more about us as performers."
The East Metro Chamber Ensemble is made up of several string players and led by EMSO's concertmaster Aja Majkrzak.  They performed three concerts at senior living facilities last spring, and are looking forward to continuing to present these fun and inspiring concerts for the benefit of both the seniors and the musicians as well. "The benefit to the residents we perform for is obvious, there are so many comments after each performance about how we brighten their days," says Majkrzak. "But chamber music is so important to the growth of the musicians as well. In a smaller setting each performer takes on more musical responsibility. I really enjoyed watching each of the musicians grow and take that energy to rehearsals with the full orchestra, including moving and breathing together and leading from the back of the section – something that is difficult to achieve in some professional groups."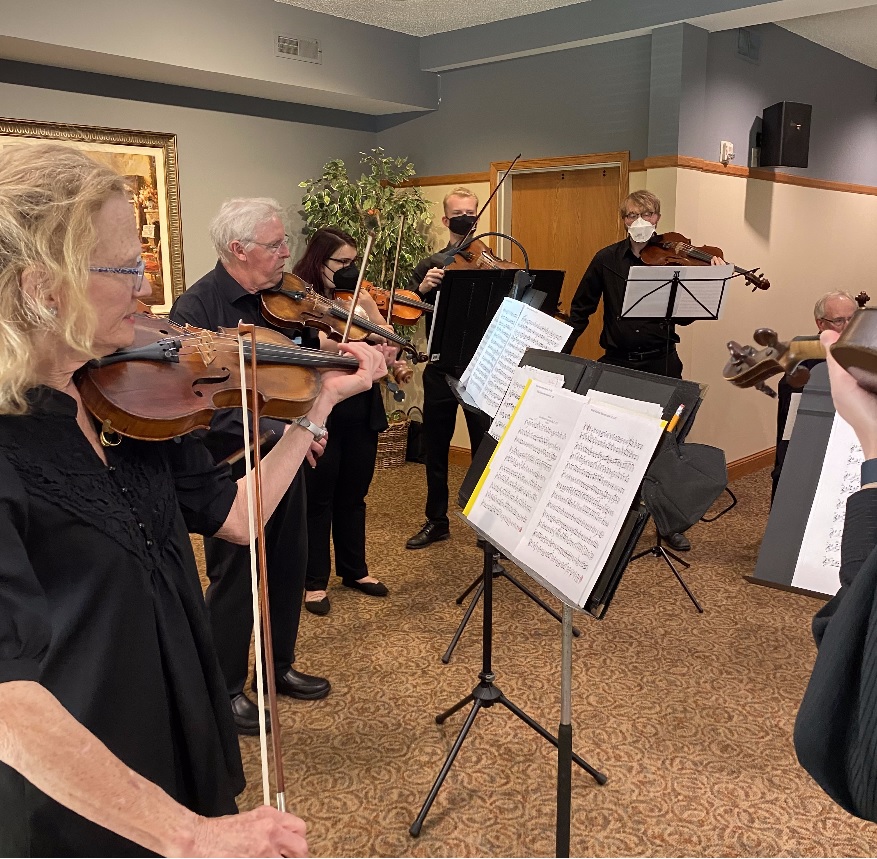 EMSO music director and conductor Craig Hara agrees. "The skills and awareness necessary when performing in the big orchestra apply when playing in a chamber ensemble, but the chamber music ensemble also requires a different degree of awareness and responsibility." This year Hara will increase his role with Symphonies for Seniors concerts by helping the ensemble choose musical pieces to perform and by increasing rehearsal time for the group.  He says that the smaller size of the ensembles and the variety in the music allows for a more unique experience. "For our audiences, this means a more intimate performance experience than that of a full orchestra concert, one where the audience is almost sitting amongst the performers. For our Symphonies for Seniors audiences, this also means more personal contact with our musicians, something everyone looks forward to."
Audiences at the senior living facilities love having the opportunity to see and hear live orchestra music and the benefits are seen right away. "We loved having EMSO out to Oak Meadows this past spring…We rarely get musicians to play anything besides a piano and or guitar," says Oak Meadows Senior Living's activities director Megan Longville. "Having EMSO at Oak Meadows gave us an opportunity that we don't normally have and were able to target another audience that may not normally come to music."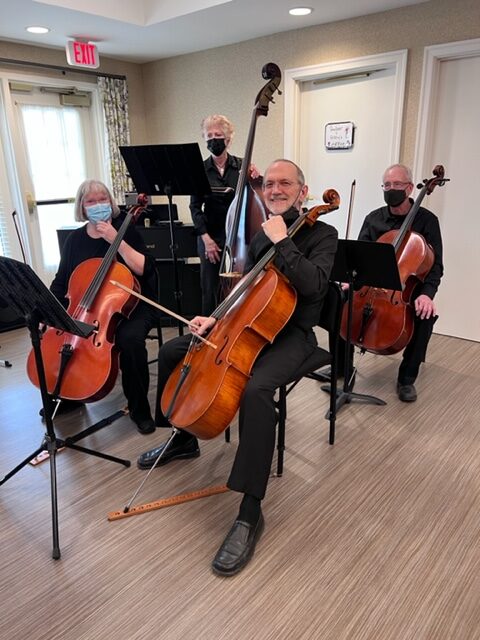 EMSO cello player Stephen Thompson has played in several of the East Metro Chamber Ensemble performances and says that it's wonder
ful to play for these audiences. "At Stonecrest Senior Living Residence over 100 residents attended the concert. Attendees filled the room and spilled into the hallway and listened with rapt attention. At Artis, which is a senior living residence for people with memory loss, it was gratifying to see residents, some lost in their minds, smile as the music reached them in a way that language and words no longer can. Playing at senior residences with the East Metro Chamber Ensemble has been a rewarding and enriching experience." And hopefully it will be an experience EMSO gets to continue well into the coming years.

Five Symphonies for Seniors ensemble performances are currently scheduled for this fall and winter.  For more information visit EMSO's Symphonies for Seniors website.