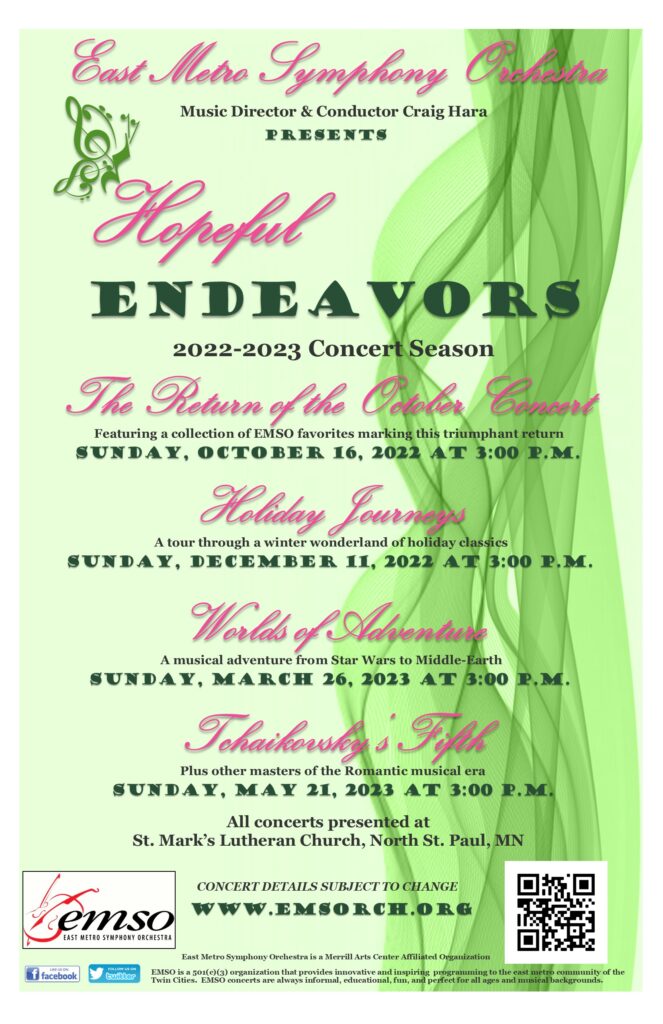 We are nearly at the first performance of the EMSO's 2022-2023 concert season! We look forward to welcoming everyone back for another great year of music and community!

The orchestra returns to a full concert schedule this season – featuring two concerts in the fall and two in the spring. These four concerts will be unique in feel and sound and will include a fall concert – the first in two years! (read more below) – that marks the triumphant return of our October concerts. Later in the season, we can look forward to a holiday concert; an exciting musical journey through our world and worlds unknown; and a traditional classical orchestra concert featuring Tchaikovsky's Fifth Symphony in the spotlight.
Why are we calling this season "Hopeful Endeavors?" We hope to have our first complete season since 2018-2019. We are hopeful that the season will progress without any major interruptions or new pandemics. As with any season, we're taking on some old favorites and also some new pieces for EMSO – encountering classical titans and tackling modern themes from other worlds. Overall, we're hopeful that this year will be full of musical endeavors enjoyed by both our EMSO musicians and our audiences!
All concerts will be presented at St. Mark's Lutheran Church in North St. Paul. EMSO will not be offering reserve tickets for our concerts this season. All concerts continue to be free and admission is at the door.
The Return of the October Concert – Sunday, October 16, 2022 at 3:00 PM
It's finally back! After two years of rough starts (or no start at all!) EMSO will present a fall concert of orchestra favorites
Holiday Journeys – Sunday, December 11, 2022 at 3:00 PM
Welcome to a musical wonderland of holiday songs including some old standards and some new classics
Worlds of Adventure – Sunday, March 26, 2023 at 3:00 PM
Journey to space and explore our world with this collection of music that captivates the imagination
Tchaikovsky's Fifth- Sunday, May 21, 2023 at 3:00 PM
Tchaikovsky's Symphony #5 plus more from the masters of the Romantic musical era
Visit EMSO's Concert Page for more information.